Recent Events at the Foundation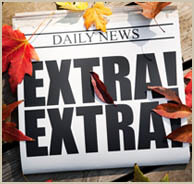 Read the latest newsletter
Check out our newsletter page for the Winter/Spring 2021 newsletter from the foundation. There you will see information about our new Luminary initiative and the current status of our 2021 golf tournaments. You can also read about other happenings around the foundation, see a salute to Someone You Should Know, and muse the latest craziness from A Day in the Life./p>
The foundation is planning its 2021 golf dates, covid depending.
Minneapolis: Monday, August 30, 2021 at Links at North Fork, Ramsey, Mn
Chicago: Monday, September 27, 2021 at Highlands of Elgin, Elgin, Illinois
Dallas: Monday, October 25, 2021 at Coyote Ridge golf club, Carrollton, Texas
Luminary Program
We are excited to announce a new initiative by the foundation that literally everyone can participate in. It is called the Luminary program. What is it? Simply put, it is subscription giving program that starts as low as $10 per month. By pooling the resources of many people who are regularly giving at a very affordable level, the foundation will be able to significantly increase the number of individuals who are living with truly, life changing needs that collectively we can solve. Please consider becoming a Luminary today!