Inspiring Hope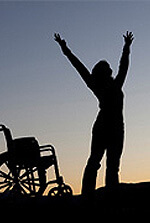 This inspirational presentation will touch the hearts of your audience and share with them the keys to overcoming the kinds of obstacles we are all likely to face in life. This is based on the experiences of Joseph Groh, a son of the construction trades who became a quadriplegic and went on to start The Joseph Groh Foundation. To date, this foundation has helped dozens of people living with life altering disabilities become more independent by providing them transportation, accessibility and assistive technology solutions.
This presentation runs 30-45 minutes, based on the needs of your organization.
Following the presentation, Joe's book From Two Wheels to Four will be available.
Joe Groh's life story is truly remarkable. It will amaze you, and it will inspire you. I can't imagine a person with greater proactivity than Joe! My father always taught, 'Between stimulus and response there is a space. In this space, people can choose their own response to what happens to them.' Joe's response—never look back, never give up, remain positive—is extraordinary. This book beautifully tells his story. The best part is the end of the book which shows how Joe is now not only inspiring others through his response, but how he is also now empowering others through his contributions. Talk about making a difference! Joe Groh is a force for good in this nation and in this world.
Stephen M. R. Covey, The New York Times and # 1 Wall Street Journal bestselling author of The Speed of Trust and co-author of Smart Trust
The Joseph Groh Foundation
josephgrohfoundation.org
Phone: 214-998-9749
hope@josephgrohfoundation.org