Stepping Up by Joseph S Groh is now available!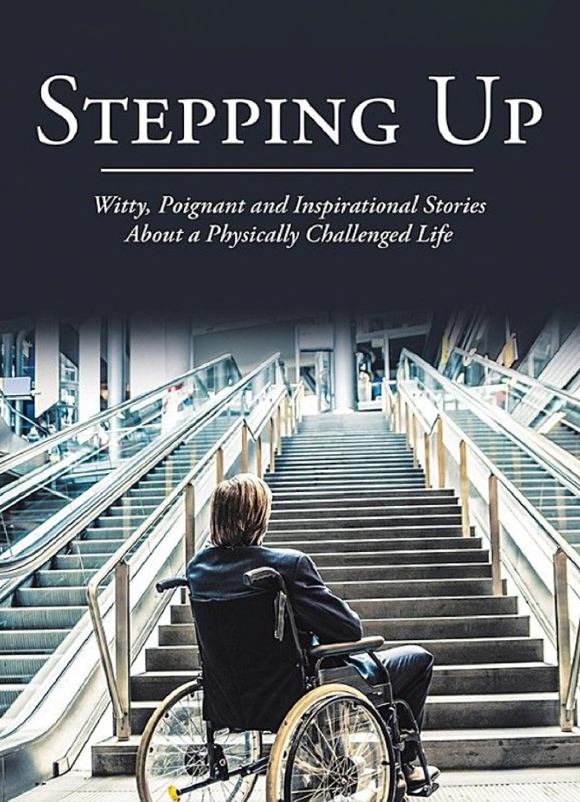 Stepping Up is a collection of witty, poignant, and inspirational stories of a physically-challenged life. Authored by Joseph S. Groh, and with contributing articles from three other disabled writers, this book chronicles incredible, informational and just plain funny experiences from the lives of these disabled authors. Whether comical, infuriating, or just plain incredulous, these stories are based in reality, and offer a offering a compelling window into lives of determination, perseverance and hope.
Only $20, 100% of the proceeds benefit The Joseph S Groh Foundation.
Stepping Up looks at five distinct aspects of life, including:
Part I – Experiences of the Wheelchair Crowd: Articles cover everything from the difficulties of staying awake while sitting all day, to children feeling emboldened to take over your thermostat, to SCI (spinal cord injury) profanity, to the perceptions people in wheelchairs have about what you think of them, these stories are true – and sometimes just plain hilarious!
Part II – Experiences with the Medical Community: People in wheelchairs tend to interface with the medical community more often than most, and the by-product of these interactions is a kind of on-the-job learned knowledge. Commentaries range from the pervasiveness of drug prescriptions, to questions of doctor infallibility, to conversations you can't have, to insights into the state of medicine today in the United States. You may just walk away with a new perspective.
Part III – Information about the Disability Community: This section gives an insider's perspective into topics ranging from medical terms important to the SCI crowd and their caregivers to technologies that make their lives much more meaningful and productive. If you know someone who lives in a wheelchair, you will find the information in this chapter to be of interest.
Part IV – Experiences You Have to Read to Believe: The name Mike Royko will likely evoke a smile from anyone who was familiar with his writings. He was a reporter and journalist who covered Cook County, Illinois (Chicago) politics and government from 1955-97. He had a knack for precisely describing what many Chicagoans felt about the news of the day. With all due deference to Mike Royko, this is what this section of the book intends to do – render opinions and points of view about a physically challenged life, using humor and perhaps even a little sarcasm.
Part V – Experiences to Reflect on: Webster defines introspection as looking inward; an examination of one's own thoughts and feelings. Perhaps the ultimate example one might think of when mentioning the word introspection are monks - individuals who lead lives of contemplation and prayer. While very far from being saints, serious, life-altering injuries and illnesses cause those who experience them to undertake introspection perhaps much more so than they might have otherwise. This chapter intends to provide insight into some of those thoughts, in a manner to which everyone can relate.
Buy this book on Lulu.com. To order your copies today, simply click here!
Thank You for Your Support of the Joseph Groh Foundation!