Recent Events at the Foundation
September is Spinal Cord Injury Awareness Month
I will bet you did not know that September is spinal cord injury awareness month. More than 17,900 new spinal spinal cord Injuries (SCI) take place every year in the United states every year. SCI awareness month is an opportunity to recognize and celebrate multiple important facts about life with a spinal cord injury. Consider the following three facts you may not have realized.
1. The physical impact of an SCI extends far beyond paralysis. These injuries result in lifelong medical concerns such as chronic pain, spasms, impaired breathing, lack of temperature regulation in the body, infection risks, circulatory issues, and blood pressure dangers to name the most common. This typically results in frequent hospitalizations and procedures.
2. Our world is not always accessible. Even though the Americans With Disabilities Act (ADA) was a huge step forward, many places, tasks, modes of travel and technologies remain inaccessible to people with SCI. That's why continuing the work of ADA is so important.
3. Life with an SCI is extremely expensive. Consider the following examples of lifelong costs, the first number represents individuals who incur an SCI at the age of 25, the second of an individual incurring an SCI at the age of 50.
High level quadriplegia (C1-C4) $4.7 million $2.6 million
Low level quadriplegia (C5-C8) $3.5 million $2.1 million
Paraplegia (from waist down) $2.3 million $1.5 million
Incomplete motor function $1.5 million $1.1 million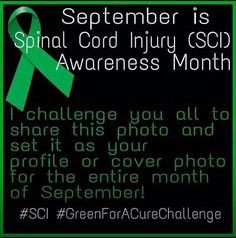 Families are often shocked to learn what insurance does not cover, items such as durable medical equipment, ongoing therapy, caregiving, home health supplies, accessible vehicles, rehabilitative equipment, assistive technology, home and bath remodels and more. This Is Why Our Foundation Exists! During the month of September, please join the dozens of people who are luminaries of the Joseph Groh Foundation, helping people with these costs.
Summer Newsletter
Read about the latest events of the foundation in our summer newsletter. Summer newsletter.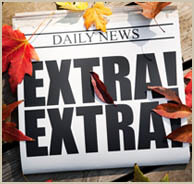 Personnel Changes
The foundation continues to implement strategies developed in Vision 22, our strategic plan. Vicki Laplant, president of the foundation since its founding in 2009 is stepping into an emeritus role, where she will continue to be engaged with the foundation as a voting board member. Eric Groh, a board member since 2010 will become the new president. Meanwhile, the foundation has brought on Rick Bousquet in its' first ever paid position, that of a part-time executive director. Rick brings 20+ years of experience of nonprofit and association management to the foundation, including a background working with HVAC contractor associations. Read more about these developments in the summer newsletter.
Golf Tournaments
We recently completed very successful Dallas and Minneapolis golf tournaments, attendance was very strong and both events. Together, they raised nearly $75,000 for individuals from the trades for living with life altering disabilities! Our final tournament for the year is coming up on Monday, September 26 in Chicago. You can read more about these events in the summer newsletter.
Business Partner Program
We are excited to announce a new initiative that literally any business can participate in. No matter how small or large of an organization you are, there are literally an endless number of ways you can participate with the foundation in order to further our cause. See the information listed below, and if you have any questions, you may contact Eric Groh at eric.groh@josephgrohfoundation.org.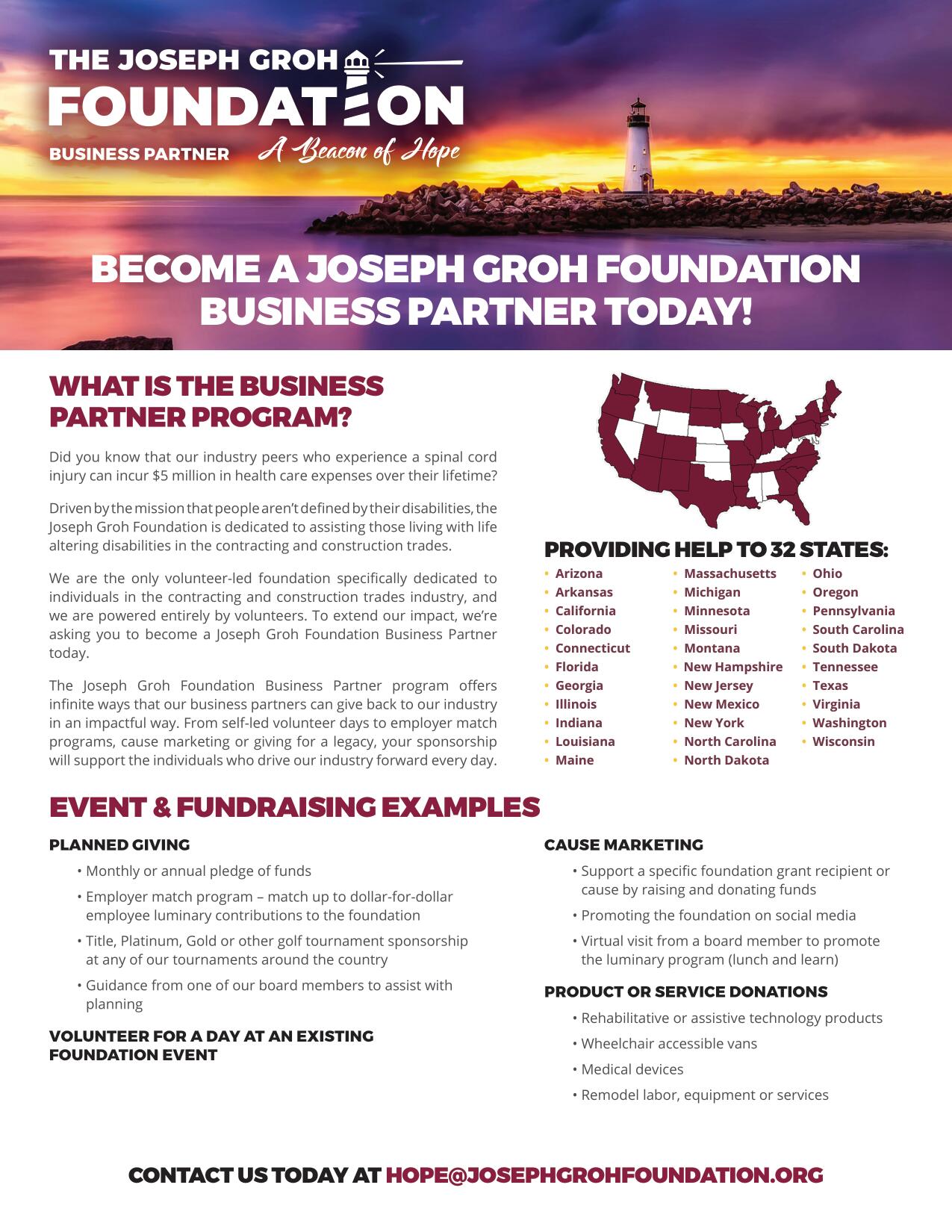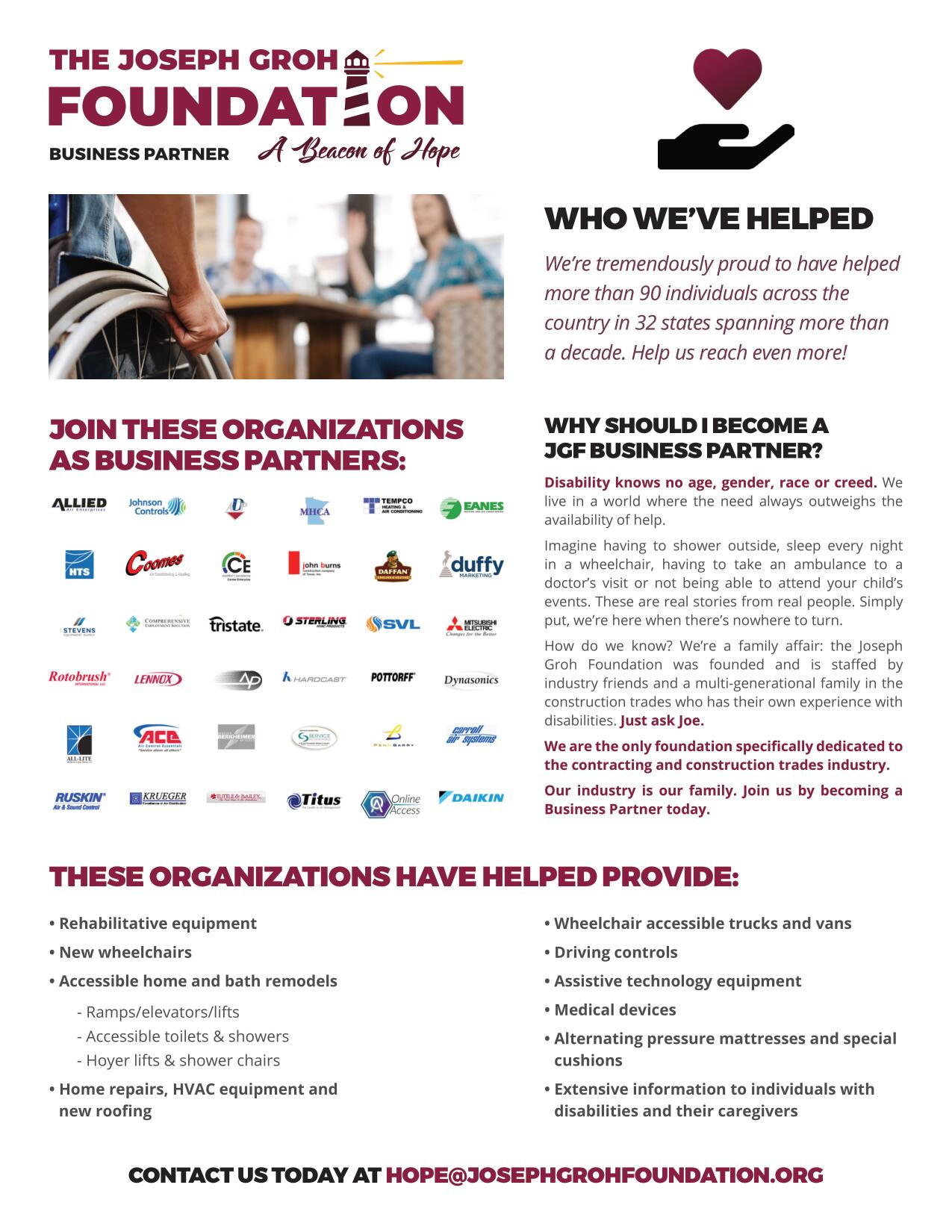 Luminary Program
We are excited to announce a new initiative by the foundation that literally everyone can participate in. It is called the Luminary program. What is it? Simply put, it is subscription giving program that starts as low as $10 per month. By pooling the resources of many people who are regularly giving at a very affordable level, the foundation will be able to significantly increase the number of individuals who are living with truly, life changing needs that collectively we can solve. Please consider becoming a Luminary today!