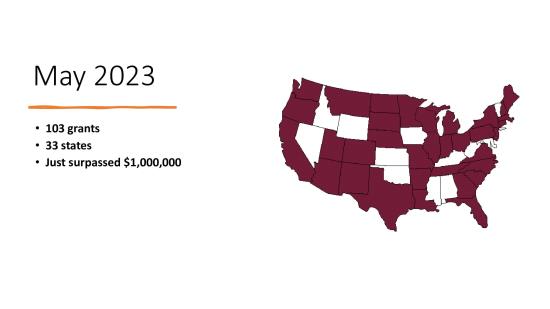 Recent Events at the Foundation
5.1.23 Announcement Made at Dallas Golf Tournament
The Joseph Groh Foundation announced a major milestone has been achieved.
4.18.23 Winter/Spring newsletter is now available
The Winter/Spring newsletter is now available, click here to read it.
3.20.23 Award Section Added to Website
Joseph Groh and board members from the Joseph Groh Foundation have now become the recipients of 8 major awards in recent years. To read about these, just go to the About tab and click on the Awards link to see more about these honors.
2.1.23 Joseph Groh presented with Lifetime Achievement Award at AHR Expo
On Sunday, February 5 Ben Poole, founder of HVAC Tactical, announced the top industry influencers at the 2023 AHR Expo in Atlanta. HVAC Tactical was founded in 2018 with an idea that HVAC individuals who are passionate about their craft should be celebrated and acknowledged. Prime sponsors for this event included Supco, a manufacturer and distributor of value driven, technician focused products for the HVACR and aftermarket industry; Webstone, a provider of time and space saving residential and commercial valves used in plumbing, hydronic, radiant, solar and geothermal applications; and RLS Rapid Locking Systems, designers and supplier of the first press to connect fittings for the HVAC and refrigeration industries.
Eleven awards were given out for categories including best HVAC Podcast to Influencer of the Year to Lady of the Trade, a full list can be seen in the link to the article from ACHR news below. I was honored and humbled to be presented with the Lifetime Achievement Award. I am excited about the awareness this will bring to our foundation, and as I said in my acceptance speech, while one person is being acknowledged, this recognition would not be possible without the shared passion of family and industry friends. You may click on the link below to see the entire award ceremony on the foundation YouTube channel. To see the presentation of the Lifetime Achievement Award and my acceptance speech, go to the 2:52:25 mark of the video.
https://www.achrnews.com/articles/152572-hvac-tactical-awards-honors-industry-influencers
https://www.youtube.com/watch?v=3mF8vnz7foQ
1.31.23 2023 Golf Dates
Announcing dates for the 2023 golf season:
Monday, May 1 ~Carrier Enterprise tournament for the foundation

Heritage Ranch Golf Course, Fairview, Texas

Monday, July 24 ~Dakin tournament for the foundation

the Links at North Fork, Ramsey, Minnesota

Monday, September 25 ~Ruskin/Titus tournament for the foundation

Seven Bridges Golf Course, Woodridge, Illinois

Monday, October 2 ~Service Nation tournament for the foundation

o The Raven GC, Pavilion course, Phoenix, Arizona
We invite you to sponsor one of these events and become a business partner with the foundation.
Business Partner Program
We are excited to announce a new initiative that literally any business can participate in. No matter how small or large of an organization you are, there are literally an endless number of ways you can participate with the foundation in order to further our cause. See the information listed below, and if you have any questions, you may contact Eric Groh at eric.groh@josephgrohfoundation.org