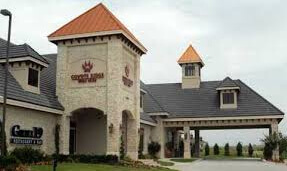 2021 Joseph S. Groh Foundation Golf Tournament
Monday, October 25, 2021
Coyote Ridge Golf Club
Carrollton, Texas
Save the date now for the 2021 annual golf tournament which will be held on Monday, October 25, 2021 at Coyote Ridge Golf Club located in Carrollton, Texas. Voted by Avid Golfer Magazine as the top five luxury course in Dallas-Fort Worth, Coyote Ridge is owned by avid golfer David Moon (owner of Sam Moon Trading Company) who regularly golfs there. Coyote Ridge Golf Club was created for the golfer who wants to experience outstanding course conditions coupled with a beautiful, luxurious 26,000 ft.² clubhouse. The course offers magnificent views from the tree-lined layout on the front nine to the naturally formed landscape of the Trinity River basin on the back nine. Coyote Ridge has established itself as one of the most challenging golf courses in Dallas-Fort Worth at 7003 yards, a slope of 141 and a course rating of 75.2. This ranks among the best, private or public in the Metroplex. From the forward tees however Coyote Ridge opens up the landing areas for the average golfer, and the course shortens considerably to 5861 yards from the white tees. Whether you play from the black, blue or white tees, you are guaranteed a memorable experience.
We look forward to seeing you on October 25, 2021 and thank you for supporting the Joseph S. Groh Foundation.
For more information about Coyote Ridge Golf Club, visit Coyote Ridge Golf Club.
Past Tournament Pictures
2019 Golf Tournament Pictures
2018 Golf Tournament Pictures
2017 Golf Tournament Pictures
2016 Golf Tournament Pictures
2015 Golf Tournament Pictures
2014 Golf Tournament Pictures
2013 Golf Tournament Pictures
2012 Golf Tournament Pictures
2011 Golf Tournament Pictures
2010 Golf Tournament Pictures