Joe's Story
Joe Groh has been active in the heating, ventilating and air conditioning (HVAC) industry for the past 35 years. He began his career working for contracting firms, installing residential and light commercial equipment. In 1977 he went to work for Lennox Industries, Inc. as an Inside Sales Representative in Chicago. Over the years, he continued working for Lennox as a Territory Manager, Dealer Business Consultant, Division Marketing Manager, Corporate Director of Business Consulting and Pricing Services Programs, Assistant Regional Sales Manager and District Sales Manager. His assignments with Lennox took him and his family to Columbus, Ohio, Dallas, Texas, Charlotte, North Carolina, and back to Chicago. Along the way, he earned his Associates and Bachelors degrees and completed some postgraduate study.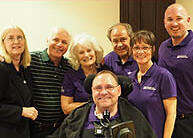 Joseph Groh Foundation
Volunteer Board of Directors
In 1998, Joe left Lennox to become Director of Marketing for a Chicago-based HVAC distributor with operations throughout the Midwest. In 2000, Joe moved with his family back to Dallas to become Director of Product Development for Titus, a leading manufacturer of commercial grilles, registers, diffusers, fan coils, VAV terminals, and under-floor air and displacement ventilation equipment. In August of 2006, Joe left Titus to become Vice President of Sales and Marketing for PCI industries, Inc. in Fort Worth. PCI manufactures the Pottorff, Dynasonics, and All-Lite brands of fire/smoke/air control dampers, louvers, acoustical silencers, and architectural products.
On Father's Day of 2008, following a day spent with family, Joe decided to go for an aerobic bike ride along the trails of Lake Grapevine. At one point, the trail turned sharply left and the front tire of Joe's mountain bike slid on some sand and off the trail. Joe was thrown head first over the handlebars, breaking his neck and damaging his spinal cord at the C-4 vertebra. Knowing that life had suddenly and unalterably changed, Joe vowed to never look back, never give up, and to remain positive.
Establishing this 501(c)(3) tax-deductible foundation is Joe's way of giving back to the construction trades industry by
Providing extensive information for individuals with disabilities and their caregivers through our website links page
Providing financial assistance for those connected to the contracting industry who are living with life-altering disabilities
Advocating for pathways to affordable short/long-term disability insurance for employees of small businesses in the contracting industry
Thank you for spending time today on our website.