About The Joseph Groh Foundation Website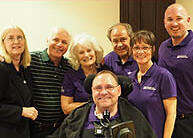 This website contains over 100 links to websites which provide a wide variety of information for spinal cord patients. These links range from federal sites, to research sites, to rehabilitation facility sites, durable medical equipment provider sites, transportation equipment sites, social networking sites, and more. It even contains a state-by-state listing of Department of Rehabilitation capabilities for that state!
In addition to providing a wide variety of information, this foundation seeks to financially assist those with links to the construction trades industry who have suffered spinal cord or other life altering injuries. The founder of this organization spent 35 years in the HVAC industry prior to being injured in a way that left him as a quadriplegic. See the "About Us" section of this website and click on "Joe's Story" to learn more about the founder.
This foundation regularly sends out e-mail updates with information regarding the latest developments regarding new grant recipients, upcoming foundation events, and healthcare news affecting spinal cord patients. You can sign up on the home page to receive these e-mails. There is also a built-in search engine to help you find information on the website.
This foundation is located in the Dallas/Fort Worth area and holds an annual fundraising golf tournament in the area. Information about participating in this event or contributing to the foundation can be found on the site, as can information about receiving assistance from this foundation.
If you find this website to be a valuable source of information for your questions regarding spinal cord injuries, please help us inform others about it. You can do this by clicking on the "How Can I Help" section of this website where you will find a word document entitled "Spreading The Word". This document can be downloaded as an attachment to your e-mail or sent directly by you to persons of your choice.
Thank you for spending time on our website.