Melanie Gentry's "Jump for Joe"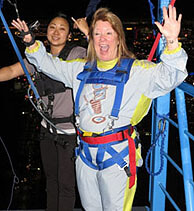 By day, Melanie Gentry is the managing member of Comprehensive Employment Solution, a California-based company that provides specialized programs in business solutions for the construction industry. She is dedicated to finding unique solutions to support contractors' most valuable assets – their employees, because she is passionate in her belief that contractors are the backbone of America. Her company serves roofing, plumbing, electricians, and HVAC contractors in over a dozen states with package deals including access to workman's comp insurance, payroll, human resource management, and safety compliance support programs. Her primary goal is to reduce the cost and liability of managing employees for independent and franchise operations.
Away from the office Melanie is a devoted mother and grandmother, board member for Little League in her town, active and prominent volunteer for local high school athletics programs, and an avid poker player. Contrast that sane, down to earth persona with someone crazy enough to jump off the 108th floor of the Stratosphere in Las Vegas! Only Melanie is not crazy – she was doing it for a great cause, The Joseph Groh Foundation. She wasn't alone either, as crazy as that may sound. Matt Michel, CEO of the Service Roundtable jumped as well!
The Service Roundtable is a revolutionary organization founded by a collaboration of leading contractors to share information and help other contractors improve their sales, marketing, operations, and profitability. They have adopted The Joseph Groh Foundation as their official charity, and they were hosting their international meeting in Las Vegas. It was one year ago in February, 2013 when Melanie heard Joe talk at The Service Roundtable's international meeting in Fort Worth, Texas. She was moved by what she heard, and that prompted her to make the 855-foot sky jump from the Stratosphere casino, hotel and tower, the highest controlled freefall in the world!
Melanie was supported in her efforts by 40 contractors attending the meeting, and between their pledges for the jump and a raffle the night before, $2000 was raised for the foundation! The foundation cannot thank Melanie, her supporting cast of 40 and the Service Roundtable enough for their loyal and continued support of our efforts to provide assistance to those living with life-altering disabilities.
Thank You All!
Click here to watch the amazing video of Melanie's jump.