Thank You Service Experts!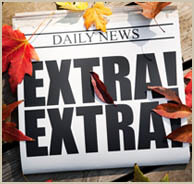 Heather Harvey is a child of the construction trades industry. Her dad went to work for GEM Refrigeration in Philadelphia when he was 22, straight out of the Army. Philadelphia-based GEM Refrigeration manufactures commercial refrigerators and freezers for hospitals and retailers. Starting as an installer of commercial on-site refrigerators, her dad ultimately was promoted to plant manager and oversaw the manufacture of refrigerators before retiring after 50 years of service to the company. "I remember feeling the small bits of metal on my cheeks when he hugged me after he got home from work," Heather recalled. "He would often point out the GEM logo on the butcher's refrigerator when we went to WAWA." (a Chain of convenience stores along the East Coast)
Heather is the youngest of his five children, and was diagnosed in 2008 with MS. The disease has progressed to the point where Heather is often sick and has difficulty with her vision and with walking. Married for 12 years with two children, Heather has difficulty tolerating the summer heat which has the effect of worsening her symptoms. No longer able to work, Heather and her family are in a precarious financial situation, so when their air conditioner stopped working, that represented an immediate crisis.
Online research led them to The Joseph Groh foundation whom they contacted for help. In turn, the foundation contacted Service Experts, who immediately put their Philadelphia center to work on the project. A service call revealed a plugged condenser coil which they were able to immediately remedy. With the system working again for Heather and her family, Service Experts intends to continue monitoring their system. A great big THANK YOU goes out to the people of Service Experts for their care, concern, and rapid follow-up. What some might consider a small thing is a huge relief to Heather and her family, and goes a long way toward helping her overcome the daily struggles of her disease. Thank you to all involved who made this happen!