Latest Developments at The Joseph Groh Foundation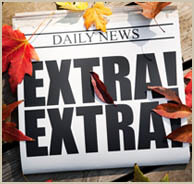 Fall 2011 Wine Tasting Fundraiser
On Thursday, November 3rd the foundation hosted its first ever wine tasting fundraiser at Landon's Winery in McKinney, Texas. Two sittings at 6:30 PM and 8 PM assured an intimate setting for participants as they sampled six types of wine and learned about the growing prowess of the Texas wine industry. Landon's Winery has won a number of awards in recent years, including being named best winery in Dallas for 2010 by WFAA. A silent auction featured sporting-goods, home decor items, jewelry, and other items. It was an educational and enjoyable evening, benefiting those associated with the construction trades industry who has suffered life-altering injuries or illnesses.
Latest Website Updates
A new homepage features upcoming events as well as a story detailing recent events at the foundation. A new "A Day in the Life" feature can be found on the home page. It is entitled "Getting Up is Hard to Do." Updated stories of recent grant recipients have been added to the Recipients Tab and a number of new links have been added to provide information to people researching information dealing with those who have been afflicted by life-altering injury or illness.
Two New Grants Approved
Two new grants have approved by The Joseph Groh foundation. The first is for Gerald and Linda Frederick of Westminster, Colorado (a Denver suburb) and Ella Hensley of Lansing, Illinois (a South Chicago suburb). The Frederick Grant is for a bathroom remodel and the Hensley grant is for an outdoor elevator. Stay tuned to the foundation website for more details.
Winter 2012 Fundraiser Planned
A winter fundraiser moved atop is planned in conjunction with a Texas Legends basketball game in Frisco, Texas. The Legends are the NBA development league affiliate of the world champion Dallas Mavericks. Details about this fundraiser will be posted on the website.