Quarterly Newsletter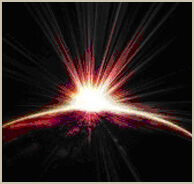 2011 Second Quarter Newsletter of The Joseph Groh Foundation
News Bytes
Foundation Hosts Successful Golf Outing
The weather cooperated nicely on Thursday, April 28 for the 2nd annual foundation golf fundraiser. Skies were sunny and temperatures peaked in the low 80s. Not even a power outage in the clubhouse which lasted nearly all day could dim the spirits of everyone at the event, which was held at Trophy Club Country Club and Trophy Club, Texas.
Title sponsor Air Systems Components (ASC) fielded four foursomes, and 84 golfers in total participated. Joining one of the ASC teams was the honorary chairman for the tournament, Scott Chandler. Scott is from nearby Southlake where he played football on a Texas 5A state championship team. Following high school, Scott attended the University of Iowa, and left a legacy as one of the leading tight ends in Iowa Hawkeye history. Selected in the 4th round by the San Diego Chargers, Scott spent his rookie season on injured reserve after being hurt in the last preseason game.
After spending the next year on the practice squad of the Dallas Cowboys, Scott spent the majority of the 2010/2011 season on the active roster for the Cowboys.
At seasons end Scott was waived and immediately picked up by the Buffalo Bills. This was the first time the tournament has had an honorary chairperson.
Scott brought one of his friends to play as well, Stephen McGee. Stephen is the reserve quarterback for the Dallas Cowboys, having played college at Texas A&M. Having these 2 gentlemen and a title sponsor the caliber of Air Systems Components added a new dimension for the tournament.
Thanks to all the sponsors, golfers contributors and volunteers, the day was not only fun but very productive. The foundation raised $45,000 (gross) from the event, which will allow it to help even more people than it did in 2010. Two pictures are shown below, please click on the golf tab of the website to see the rest. They can also be viewed on the foundation's Facebook page. Once again, the foundation sends a big Thank You to all of our sponsors, golfers, contributors and volunteers for their generosity and support!
(L to R) Jon Muckley-ASC, Scott Chandler-Buffalo Bills, David Hanks-ASC, Paul Christensen-ASC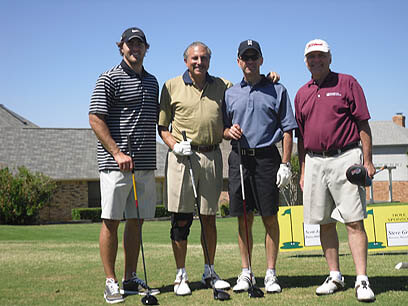 (L to R) Stephen McGee-Dallas Cowboys, Scott Boxer, Lane Jeffries, Mike Hajduk
Joseph Groh Foundation Approved by Donor Bridge
The Joseph Groh Foundation has now been approved for listing by Donor Bridge, which is part of the Communities Foundation of Texas. Donor Bridge is a searchable online database with detailed information about Dallas area nonprofit groups. Donor Bridge contains information from a non-profits 990 direct from the IRS. The Center for nonprofit management and the Communities Foundation of Texas staff review and verify the information reported by each nonprofit. This database allows donors to find worthy recipients for their charity through a variety of searchable categories.
Recent Grants Approved by Foundation
The Joseph Groh Foundation has approved 2 more grants. The first is for Jimmy Johnson of Dallas, Texas. Jimmy was employed by the city of Dallas 15 years ago when he was involved in a non-work related car accident. That accident left him paralyzed from the waist down. Jimmy petitioned the foundation for a grant to remove the carpet in his home and replace it with a hard surface finish. As Jimmy has aged, he finds it more and more difficult to propel his manual wheelchair over the carpet. Jimmy lives in Dallas with his wife and adult daughter, who suffers from autism. Jimmy's sister and brother-in-law own a construction firm in East Texas.
The second grant is for Debra Clapperton of Matteson, Illinois. Deborah suffered a brain aneurysm, leaving her husband (an HVAC service technician) to care for her and their 2 children. Debra's husband passed away two years later of a heart attack, and Debra's children had to be raised by relatives. Last year her house was foreclosed on, forcing her to move into her mother's house. Her mother's house required front entry and bathroom modifications for Debra, and this is what was requested from the foundation. The foundation is currently working with contractors in the Chicagoland area to meet this request, and work is scheduled to begin July 23.
Details about both of these grants will be published in the near future as work is completed.
Featured on the Web
Recent Changes to the Foundation Website
When you look at the foundation website, you will notice quite a few changes including:
Homepage
New picture and corresponding cover story
New video
Updated list of corporate sponsors
About Us
Updated mission statement
News Page
2nd quarter 2011 newsletter
Archived news articles and newsletters
Links Page
7 additional links added -- the Joseph Groh foundation has one of the most comprehensive listings of disability websites that you will find anywhere. The latest include:
Links to state-by-state listings for all US Senators and House members
Link to website containing complete list of assistive technology products
Link to website listing numerous resources for those with disabilities
Link to Mobility Air Transport -- they will fly you in your wheelchair at a rate no higher than published commercial airline prices
Link to a site which provides durable medical equipment to children with disabilities
Link to a Dallas-Fort Worth organization which collects, sanitizes and redistributes durable medical equipment to those in need
Golf Page
Information about the 2012 benefit tournament
See pictures from the 2011 tournament
We invite you to explore all these new features in detail!
Upcoming Events
Fall 2011 -- Joseph Groh foundation fundraiser at a Texas Legends basketball game in Frisco, Texas. The Legends are the NBA development league franchise for the world champion Dallas Mavericks. Stay tuned to the website for additional details as the date gets closer.
People You Should Know
Travis Roy -- Hockey Player Extraordinaire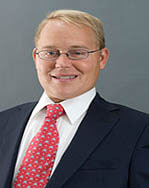 Who among us, at the ripe old age of 20 or so has not wondered what our futures held in store for us? Not Travis Roy, he knew where he was headed but more importantly, he was exactly where he wanted to be right now. That place was center ice, dressed in a Boston University hockey uniform preparing for a game opening face-off.
Travis's earliest memories of skating were of the power skating clinics taught by his dad, Lee Roy. His father was a champion of youth hockey in southern Maine during the early 1970s, founding the Portland Youth Hockey Association. He managed 4 different rinks in the state of Maine, and coached kids from early elementary through college age. He also ran summer camps, sharpened skates and drove the Zambonis.
Lee Roy had a lifelong passion for the game of hockey, and he passed that on to his son Travis. A hockey star at the University of Vermont, Lee Roy was the team's MVP and had been elected into the UVM Hall of Fame. Travis began playing organized hockey on teams coached by his father at the age of 4. Due to all the hard work Travis put in at the power skating camps taught by his father, he learned to skate as well as anyone. He wasn't necessarily faster, but he was more balanced and more agile. Every year at these camps Travis worked on the same drills which focused on the basics and fundamentals. By the age of 20, Travis could pass, skate and handle a stick with the best of them. It seemed like his whole life had been in preparation for this October night in 1995 when he skated onto the ice for his varsity debut with Boston University. Little did he know that his life would be forever changed 11 seconds after the puck dropped for the opening face-off.
Following the face-off, the puck was knocked toward the boards. Skating hard after it Travis crashed into the boards, cracking his 4th and 5th cervical vertebrae. The result was catastrophic. Travis was a quadriplegic, paralyzed below the shoulders.
Following intense rehabilitation Travis returned to Boston University one year later, but as a student and not a hockey player. Four years later he graduated with a degree in public relations. In 1997, Roy wrote his autobiography entitled Eleven Seconds with the help of a writer from Sports Illustrated. Later that year, he founded the Travis Roy foundation, a 501(c)(3) nonprofit that focuses on finding a cure for spinal cord injuries and providing financial assistance to spinal cord injury survivors in need of adaptive equipment.
Since 1997, the Travis Roy foundation has awarded over $500,000 in research grants and $2,200,000 in individual grants. In addition to his fund-raising activities, Travis is a popular motivational speaker throughout New England. As an activist, Travis has testified before the Maine and Massachusetts legislatures as well as the United States Senate in support of spinal cord injury issues.
Philanthropist, author, activist and speaker, what makes Travis a hockey player extraordinaire is not what he did on the ice, but rather what he did because of it.
A Day in the Life
This feature is a sometimes humorous, sometimes offbeat, and sometimes irreverent look at life as seen through the eyes of a severely disabled person. Management takes no responsibility for these ramblings.
If You Park There You'd Better Be Limping
According to a recent survey of data collected by a city owned parking company, over 20% of the parking spaces in downtown Budapest were occupied by vehicles displaying a disabled pass. A blogger from South Africa asked on a disability website, "A while ago I came across an example of a sticker one can use put on the windscreen of a car that is illegally parked in a handicapped zone. I cannot now find the example, but whoever has one can you kindly repost?" Replies to that blog request came back from Australia, Mexico, New Zealand, England and elsewhere. Apparently, the problem throughout the United Kingdom is particularly bad. Thank goodness we don't have that problem in this country!
These bloggers went on to discuss the most outrageous excuses for violations that they've heard and what they would like to tell parking violators caught in the act. They also debated a variety of punishments for such violators, and had a number of suggestions for alternative signs which might do a better job of preventing the violation in the first place. Finally, instead of leaving the usual parking ticket on the drivers windshield, they had some ideas for an alternatively worded parking ticket. I have listed below the top excuse, top comment, the top punishment, favorite alternative parking signs and the favorite alternative parking ticket of these bloggers.
Top Excuse
I want to be disabled and I am just practicing.
Top Comment for Violators Caught in the Act
If you intend to park in this space illegally because you will "only be there for 1 minute," that's okay because it will only take me 30 seconds to slash your tires.
Top Punishment
Publicly slapping a violators mother for having bred such an inconsiderate and ill behaved child
Top Alternative Parking Signs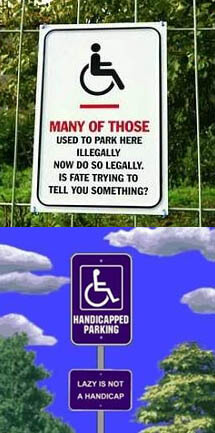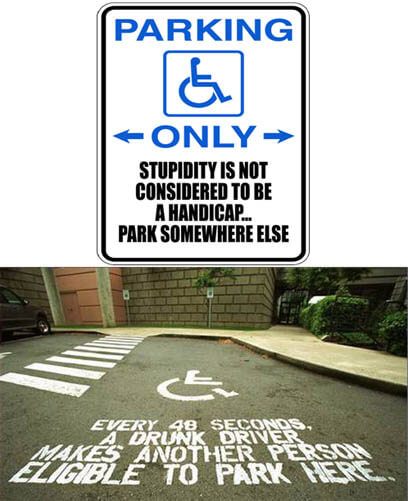 Top Alternative Parking Ticket