Quarterly Newsletter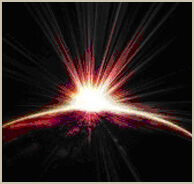 July, 2014 Summer Newsletter of The Joseph Groh Foundation
News Bytes
Fifth Annual Golf Tournament a Success
The fifth annual golf tournament for the Joseph Groh foundation was held on Monday, May 5 at Prestonwood country club in Dallas, Texas. The tournament was a record in every category, 126 golfers participated and gross revenue was $55,000 for the event. Once again we were treated to beautiful weather, and two of the highlights of the day was the opportunity every golfer had to score big prizes on all par threes and the warm, fresh baked cookies from Corner Bakery!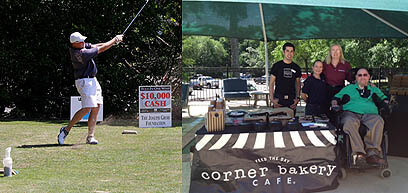 Thank you sponsors, golfers and volunteers for aother great event!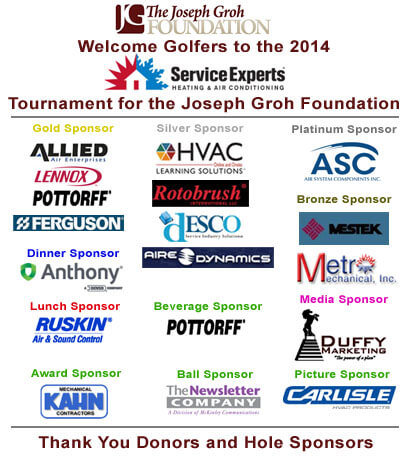 Some crazy things were happening at the spring Service Roundtable meeting in Las Vegas back in May. People were literally jumping off the 855 Foot High Stratosphere for the Joseph Groh foundation! Matt Michel, CEO Service Roundtable, Melanie Gentry and others raised about $2000 for the foundation from pledges they garnered prior to their jump. Melanie is featured in the picture below just before she took the plunge, paste the link below into your browser for a "first-person video" look at this feat of daredevil. Thank you to all who participated!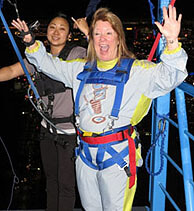 Early in the year Service Experts announced that they would be a fundraising partner with the Joseph Groh foundation in 2014. That was followed by a consumer promotion where 5% of qualifying installations and service calls were donated to the foundation. In May, Service Experts became the title sponsor for the Joseph Groh foundation golf tournament held in Dallas. Service Experts Heating & Air Conditioning, based in Plano, Texas, is one of North America's largest heating and air conditioning brands, with over 97 locations serving more than 2,000 homes and businesses per day. Service Experts service centers provide heating repair, air conditioning repair, indoor air quality sales, HVAC system sales and installation, HVAC maintenance and HVAC repair service for both the residential and commercial HVAC markets.

Foundation plans first ever Chicago area golf tournament on Monday, September 15, 2014! This event will be held at Makray Memorial Golf Club in Barrington, Illinois. Outside of Texas, the foundation has provided more grants into the state of Illinois than any other state. In order to keep up with the increased requests for grants, the foundation decided the Chicago area would be a perfect location for a second golf tournament. We are looking for sponsors and very much need your help in making this a success. Sign-up information for sponsors, golfers etc. is on the foundation website under the Chicago golf tab. We look forward to another fun filled event raising much-needed funds for those living with life altering disabilities.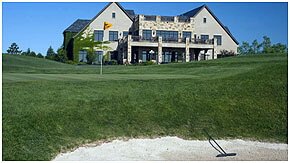 Once again the foundation will have a booth At Comfortech 2014, this year to be held September 9-11 in Nashville, Tennessee. This major industry event has become an important in spreading awareness of the work of the foundation. This year, donations over a certain amount will qualify for Joe Groh's recently published book, entitled From Two Wheels to Four. This inspiring book chronicles the story of Joe's family following a and how they learned to prevail in times of extreme difficulty, vowing to never look back, never give up and remain positive. See more information about this book later in the newsletter.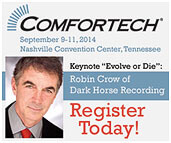 People You Should Know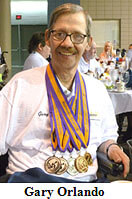 As we near the Fourth of July holiday, we wanted to honor a member of the military as a person you should know. Erie, Pennsylvania resident Gary Orlando knew he wanted to serve in the military ever since he was in 10th grade. His father and other family members served in the military, and it was his dream to follow in their footsteps. In 1969 he found his opportunity, serving as a door gunner on board a helicopter in Vietnam. In 1971 however he was injured during an attack and it left him paralyzed.
"I went from fighting a war one day to being paralyzed at Walter Reed medical center the next," Gary said. "It was a very emotional time for me, but members of the paralyzed veterans of America supported me during the transition." That event spurred Gary toward a lifetime of service for other wounded vets. He currently serves on the Board of Directors for the Keystone Paralyzed Veterans of America chapter. In this role, he is responsible for overseeing services for veterans who are paralyzed due to MS and ALS. He also serves as the hospital liaison officer for his region, and starting next month he will serve on the national chapter field advisory committee. "I like to visit and encourage vets who are in the hospital," Gary said. "I tell them not to give up, you don't know what the future holds." Beyond his professional career, Gary has found great success in athletic competition. "I began volunteering for the national veterans wheelchair games in 1998, and started competing the following year" said Gary. Gary has completed in every game since 1999 and won medals each year he competed. "I felt lucky and proud after winning, but I don't compete for the medals," Gary said. "It's a great way to meet new people and see old friends, and the best part is being able to help newly injured veterans returning from Iraq and Afghanistan." "My main goal is to be an example. Even if I can just impact one person, I consider it a huge success" he concluded. Thank you Gary for both your service and your example!
From Two Wheels to Four
Last month Joe Groh released his first book entitled, From Two Wheels to Four. Based on real-life events, this book talks about how overcoming obstacles is a function of your life experiences, your support network and your faith. The story follows Joe's life from childhood to the point of a major life altering accident. It concludes with how this leads the family to look outward in order to inspire hope among those living with permanent and life altering disabilities.
Available now, see the foundation website for ordering information. 100% of the proceeds benefit the Joseph Groh foundation.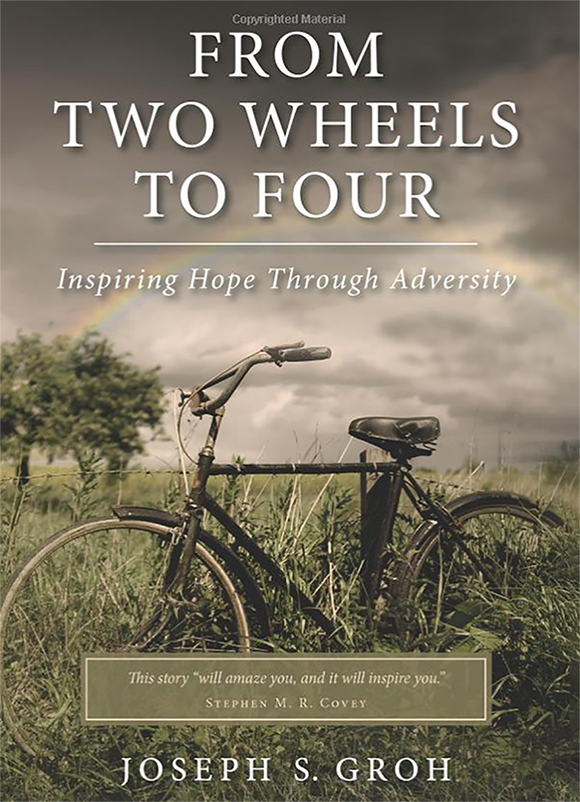 A Day in the Life
This feature is a sometimes humorous, sometimes offbeat, and sometimes irreverent look at life as seen through the eyes of a severely disabled person. Management takes no responsibility for these ramblings.
Making It Look Easy
I remember in high school how exciting it was to attend a major league athletic event. Whether it was the Cincinnati Reds or the Cincinnati Royals, I was always amazed how smooth the players looked in the performance of their duties. I had such an appreciation because I knew how smooth I didn't look in trying to execute some of those same plays. Whether driving the lane or diving for a sinking line drive in the outfield, I knew how it felt to get stuffed attempting the layup or having the sinking line drive scoot past you for extra bases. Not the pros however, they made it look easy every time. That is why I admired their talents so, because I knew it was not as easy as they made it look.
What is not so obvious however is what the pros do to support each other. Setting that tough pick to free up a driving guard, running at full speed to back up your outfielder in case the ball gets by him, those are some of things that are often missed yet which are key in allowing your team to play well and look good while they're at it.
In my recent book, I talk about how overcoming obstacles is a function of your upbringing, your faith and your support network. A good support network makes it look easy the same way it does in sports. People often comment about how good I look, how healthy I am or even how inspiring I might make them feel. The truth of the matter is however it is my support network that makes this possible. Showing up prepared and on time for any event is taken for granted, but what people don't see are the hours of work behind the scenes in order to make that appearance look routine. So many people are incredulous when they hear it takes two hours to get me ready every morning to face my day. They just cannot envision what all is involved.
The ultimate recognition however comes from medical professionals who know what it takes to stay healthy and keep from getting debilitating pressure sores, infections or lung issues. The difference between an in control versus out-of-control pressure sore or the difference between an inconvenient UTI versus out-of-control infection can simply be a matter of hours. While disruptive to everyone's schedule, when Sue has to make a doctor run with virtually no notice, it is that kind of commitment that lets me go to the doctor but stay out of the hospital. We are constantly being told by medical professionals that I am a prime example of doing things right. We are often told they have not seen another individual with my level of injury who has had so few health problems. When I hear these comments I revel in the respect and understanding offered by someone who "gets it." In these conversations, we both realize they are not talking about me, they are talking about my support network of family making it look easy. You know who you are and my hat is off to you. Thank you for all you do!