Quarterly Newsletter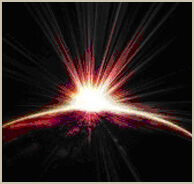 Summer, 2015 Newsletter of The Joseph Groh Foundation
News Bytes
Dallas Golf Tournament Sets Record
The month of May typically features spring storms in the Dallas-Fort Worth area, but 2015 set a record for the most rainfall ever in the month of May. Fortunately, the week leading up to and day of the foundation golf tournament did not see rain! A record 131 golfers signed up for this year's tournament, which raised over $52,000 for the foundation. Everyone associated with the foundation is truly grateful for the continued loyalty and support of our many golfers and sponsors, who are highlighted below. The Dallas tournament is our most significant fundraiser of the year, and its success is key to our ability to provide grants to individuals in need who have a direct or family connection to the construction trades industry. Thus far in 2015, the foundation has fully funded 2 grants and is in the process of funding 2 more. We are also evaluating 4 additional applications for funding, and all this would not be possible without the DFW tournament. Thank you one and all!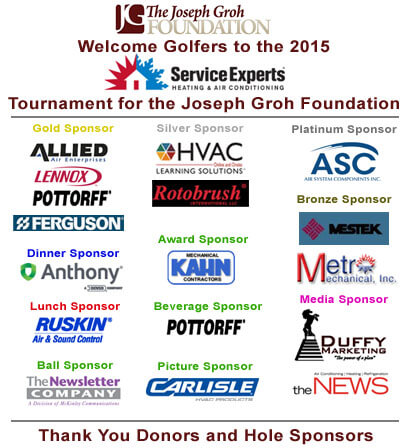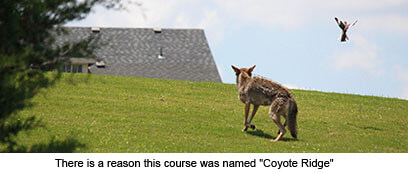 Service Roundtable Mixes (foundation) Fun with Business
In early April, 100 alliance and 200 Roundtable members from the US, Canada and Australia met in Phoenix to hear nationally acclaimed speakers, industry experts and highly successful contractors talk about business strategies.
Alliance members heard Tony Jeary, known as "The Results Guy" share his strategic vision and communication steps designed to help contractors grow their businesses and themselves. Author of 44 business books, Jeary's presentation was more like a workshop which kept attendees interested and involved. In addition to participating in a variety of other business seminars, attendees also heard from former Dallas Cowboys quarterback Danny White and foundation Board President Vicki Laplant, who presented a seminar on social style analysis.
All was not all work and no play however. On Wednesday night members gathered at a local bowling alley where a billiards and bowling tournament for the Joseph Groh foundation was held. Members formed teams for a head-to-head challenge and competed for prizes based on skill and bribery! Yes, the judges could be bribed for additional points, with all proceeds benefiting the foundation. The highlight of the evening was the auctioning of a signed football by Danny White. The successful bidder was John & Kathie Todd Of Central Oregon Heating and Cooling, a longtime supporter of the foundation. Yet other participants were convinced to jump in the pool, fully clothed, after pledging donations to the foundation. In all, $5300 was raised for the foundation!
Formed by leading contractors, the Service Roundtable offers an incredible array of HVAC, electrical, solar, and plumbing best practice tools to help contractors generate leads market your company, recruit technicians, price for profit, manage your service agreements, close more sales and create an exit strategy. For more information visit www.serviceroundtable.com.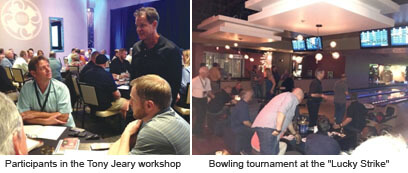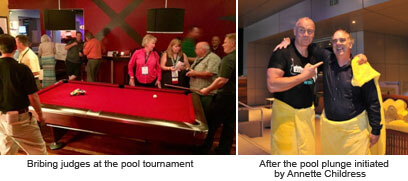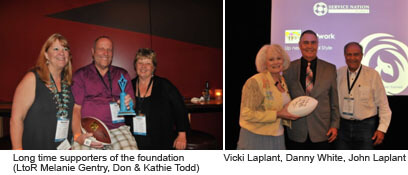 Family Fun Day Raises Money for the Foundation
When the management of Budget Air Conditioning, Heating and Plumbing of Saint Peters, Missouri decided to host Family Fun Day, they were all in! Events featured sack races every hour for kids and adults, egg toss contests, volleyball games, an inflatable obstacle course, sand darts, a planting station where kids could plant a flower to take home and a visit from a local ice cream truck. One of the highlights was a dunk tank staffed by the HVAC manager, plumbing manager and owner of the company. For one dollar per throw, everyone had a chance to dunk their dad/co-worker/boss – and business was brisk! "We all know how tough summer is on the families of those in the HVAC business," said Amy Davis, vice president. "We just wanted to show our employees how much we appreciate what they and their families do." Proceeds from the dunk tank went to the foundation, and we would like everyone at Budget to know how much we appreciate what they do!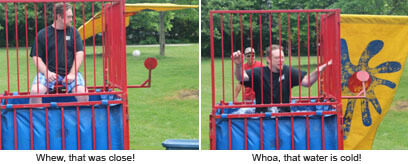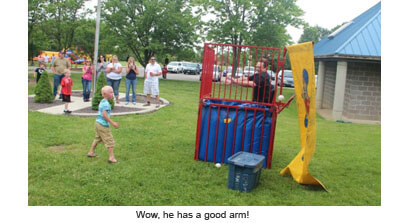 Foundation Participates in National ACCA Meeting
From March 16-19 the Gaylord Texan in Grapevine was home for the Air-Conditioning Contractors Association of America (ACCA) national meeting and energy Expo. Contractors, manufacturers and distributors came from across the nation to participate in the event which featured keynote presentations, learning labs, mixers and product expositions. As they have in the past, CEOs of the top HVACR manufacturing companies came together in an open forum to address contractor issues. ACCA graciously extended a courtesy booth to the foundation at the product exposition, which was staffed during the three-day event by John and Vicki Laplant, Mike Hajduk and Eric and Joe Groh, all members of the foundation Board of Directors. The foundation made a number of new friends at the event, which raised over $2000. This wasn't the first time the foundation had participated in ACCA's national meeting. In 2014, Joe Groh participated via Skype in a panel presentation about selling to disabled clients, facilitated by private consultant Sharon Roberts. The foundation especially wishes to thank To Your Success (the customer satisfaction company) for their Otis Spunkmeyer cookies every afternoon!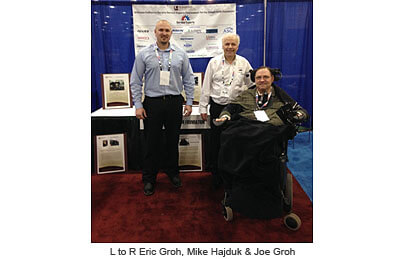 Foundation Featured in Dallas Morning News Article
Since 1978 Steve Blow has worked for the Dallas Morning News and started writing his award-winning columns in 1989. Any regular reader of this newspaper has had the pleasure of reading his columns. In Steve's own words, "The secret of a good news column is to introduce the reader to a person worth knowing, or put into words the readers own thoughts. Best of all, offer a view that differs from the readers, but in a way that intrigues, not antagonize us."
On May 8, 2005 Steve wrote an article just before Mother's Day about Ann McLamrock of Dallas. It is an inspirational story about a mom who took care of her son for 35 years after he was paralyzed from the neck down following a tackle made in a high school football game. Her 51-year-old son died on March 18, 2008 from respiratory problems arising from his paralysis. His mother collapsed on the morning of his funeral, and died eight weeks later. Ann had worked from home for Callahan Roach Business Solutions, whose president, Mike Hajduk, is on the foundation Board of Directors. Furthermore, Ann was a client of the insurance agent whom Sue Groh worked for. Sue remembered Ann and that article and invited Steve to read Joe's book, From Two Wheels to Four last fall. Steve read the book and decided to write an article about the foundation after visiting with Joe and Sue at their home. It was published just before this year's Dallas golf tournament, on April 8. If you haven't had a chance to see the article, you can follow the link below to read it. In addition, you may want to check out Steve's book if you can still get it. Entitled Blow By Blow, it features a collection of 100 of Steve's best columns. Published in 2000, we would like to see an updated version before he retires featuring the columns he has written since then. We even have a suggested title for it, The Final Blow! What do you think Steve?
Upcoming Events
The foundation has a number of upcoming events planned for this summer and fall. The second annual Chicagoland golf tournament is scheduled for Monday, August 31 and will be held once again at Makray Memorial Golf Club in Barrington, Illinois. Complete information and sign-up forms can be found on the website under the Chicago golf tab.
On September 15-17, the HVAC world will be drawn To Comfortech 2015 which will be held at America's Center Convention Complex in St. Louis, Missouri. For the fifth straight year the foundation will have a booth as part of the product exposition, similar to the one described in the article above. The foundation will also participate in Service Roundtable events taking place at Comfortech, so look for us there!
Featured the Web
This newsletter sees another nine websites added to the foundation's link's section. The new websites range from an organization in Texas which builds ramps for the disabled to one discussing air travel for the disabled to one containing the e-mail address and fax number of all U.S. House and Senate members. Other new websites include those providing advice on disability accommodations for the home to a site that provides methods and calculators for setting up a budget to moving guides to handicapped transportation suppliers. In total, the links section on the Joseph Groh foundation website now feature 168 separate sites with information across 11 different topics, thereby representing one of the most complete repositories of disability associated websites to be found anywhere!
People You Should Know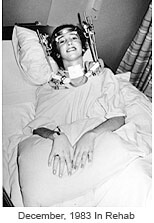 It was a 11:15 PM on Friday night, September 23, 1983 and Barbara Turnbull was near the end of her shift At Becker's Convenience Store in Mississauga, Ontario. Suddenly, three armed young men burst into the store to rob it. Without warning, one of them shot Barbara, severing her spinal cord and changing her life forever. The shooting left her a high-level quadriplegic, able to move only her head and shoulders.
For the next year she underwent rehabilitation at two different hospitals, then got through a difficult four-month trial of the four men charged for armed robbery and attempted murder. That would be enough to make many people bitter and depressed, but not Barbara. She had things to do! She headed to Arizona State Uni of versity to pursue a bachelors degree in journalism. The woman she hired for a month to come and train her attendants ended up staying for two years, and received a teaching certificate. Barbara graduated 1990 with honors and as class valedictorian. Technology made it possible for her to operate a wheelchair with her head, typing with her voice. The Toronto Star offered her an internship while a student, and after graduation she became a reporter at the paper.
"I can't pinpoint the day – or even the year – when I accepted life as a quadriplegic. It likely happened incrementally over time. I only know that I have always lived as full a life as I can, tolerating what I have no choice about, fighting what I don't have to accept, finding joy in many places and having no problem being grateful for gifts small and large," Barbara said. Not that she doesn't have difficult moments and days. "For example," she says, "I have no tolerance for technical problems with my chair or assistive devices. When something breaks down, my mood instantly blackens." "Overall," she says "life is manageable when I have good attendants, work that is interesting, live music, good food, regular therapeutic exercises and things to look forward to."
Her first byline was published in the Toronto Star in 1989 – an obituary! Over the years, Barbara conducted hundreds of interviews for the Star, most of them facilitated by telephone. She would record her interviews, transcribed them with the help of an attendant and write her stories on a computer using voice software. Not being able to take notes has its disadvantages. "My equipment sometimes lets me down," she says. "Like the time I hung up from interviewing actor and director Robert Redford, and discovered my tape recorder had malfunctioned about 10 seconds into our conversation." For the next 25 years she reported for the Star, tackling difficult assignments. During that same time she also became an advocate for the disabled in Canada, established a foundation to support neuroscience research, became a published author and facilitated speaking engagements on subjects ranging from medical research, accessibility and community living to the pros and cons of social activism. Since 2002, her foundation has awarded over $500,000 U.S.D. to Canadian researchers who have worked to advance spinal cord research.
About five years ago Barbara developed a pressure sore that by her own admission, may well be with her for the rest of her life. Because of that, she couldn't spend the same number of hours in her chair as when she was younger and can no longer fly. She mostly works from home and sometimes in bed. "My age, lack of circulation, and length of time paralyzed all work against me," she said. In the spring of 2015 Barbara contracted a case of pneumonia, and couldn't shake off its complications. On Sunday, May 10 she passed away, surrounded by her family. To learn more about the life of this amazing woman, click here to read her e-book published by the Toronto Star.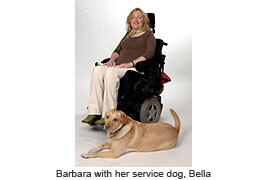 A Day in the Life
This feature is a sometimes humorous, sometimes offbeat, and sometimes irreverent look at life as seen through the eyes of a severely disabled person. Management takes no responsibility for these ramblings.
Maximum Overdrive
In 1986 Stephen King directed a movie by this name which depicted a group of people trying to survive after machines came alive and become homicidal. I'm sure no one ever saw this movie (including this writer) as it was horribly rated, but the plot line is not dissimilar to the relationship I sometimes have with my various voice operated machines. Individually operated, they are benign and extremely helpful, but when simultaneously activated can become darkly malevolent.
The cast of offenders include my voice activated computer, phone and environmental control unit whom I shall call Sicare. Not a particularly loving name, but it is the one endowed upon it by its creator, Ablenet Inc. Technically, it's name is actually Sicare Light, but more about its dimwitted designation later.
The ability of a voice operated device to understand and correctly interpret audio input is directly correlated to its artificial intelligence and sophistication. For example, I am presently using Dragon NaturallySpeaking Professional, version 11.5 to write this article. It is a very smart program because when I say words like red or five, that is generally what is printed on the page. The same is true for my Motorola phone and Blue Parrot Expressway Bluetooth. When I am speaking with someone and say the words alarm or television, that is what the person on the other end of the phone hears, unless I just answered the phone out of a sound sleep at 2 in the afternoon. Both of these devices seem to possess a strong degree of self-confidence and are not easily rattled, until other machines get a involved.
When the phone rings, it often happens at a time when I am working on the computer, so I must issue a command for the computer to go dormant while I am speaking on the phone. The sequence sounds something like this. (Phone rings) Me to computer " go to sleep"; Hello, Mike – how are you ~conversation continues. At the end of the conversation I say, " wake up" and continue on with the computer. Pretty straightforward, right? Except when the computer wakes up during the middle of the call. At this point the computer attempts to write down everything I say (generally unnoticed by me) until it gets thoroughly confused, at which point it locks up. Then I have to get Sue to exit Dragon and restart. If I do notice however that the computer woke up during the call, I will say in a low voice "go to sleep" in order to keep this from happening. In those situations however, the volume required to make the computer obey my command is also sufficient to have my caller demanding to know why I am telling them to go to sleep. That is not to be confused however with what happens when a caller is trying to give me a website address, phone number or something similar. In those situations I will say in a low voice "wake up" so my computer will start writing what I repeat to it. Once again however I generally have to say it more than once at an increasingly louder pitch, at which point my caller might say something like "Hey, I am awake, why don't YOU wake up!" All this pales however to what happens when my cerebrally challenged Sicare gets involved!
In order to understand the full spectrum of machine created chaos, you have to become familiar with some of Sicare's commands. For example, when I say "start up", the command window will light up and I will hear back "start up, sleep." That means Sicare is now awake and ready for your command, while recognizing that the sleep command will cause it to go dormant again. My command of "shutdown" will cause the command window to darken and Sicare will say "sleep, wake up." It will also repeat my commands such as "television, switch on" or "lamp, (name of light over fireplace) off" or "device, (name of ceiling fan) switch on" etc. Can you begin to see where things might go wrong?
With that as a background, imagine the following scenario. I have been working on a Word document when the phone rings. Sicare hears my voice and the trouble begins with "wake up, sleep."
The following exchange occurs.
Me: "go to sleep", Hello – Mike, how are you?
Sicare: "Bed"
Me: Yes, the golf tournament is looking great. Go to sleep. No, not you Mike.
Sicare: "Head down" ~top half of bed begins to move down
Me: It looks like we have about, go to sleep, 100 people signed up so far.
Sicare: "Head down" ~top half of bed moves down some more.
Me: (in slightly frustrated voice) – Yes, I believe so. Go to sleep, Go To Sleep!
Sicare: "Foot up" ~bottom half of bed moves feet up.
Me: (trying hard to focus, now in severe incline position) Yes, okay. I attempt to continue conversing in a normal tone of voice, while the following takes place.
Sicare: "Light off", "Red", "Head down", "Television on." Fan off."
Me: (exasperated, using a sharp tone) Go to sleep. Shutdown!
Sicare: "Sleep, wake up"
Long pause on the other end of the phone, and then I hear "Why did you tell me to shut up?"
Me: No, not you Mike.
Sicare: "Wake up, sleep"
Conversation continues another few minutes and when it concludes, it is hot and I am nearly upside down, my computer is locked up, the television is blaring and I am in the dark.
The phone rings again, but this time I just ignore it. It is maximum overdrive!
P.S. You can just imagine how the machines behaved during the writing of this article!