SRT, ACCA, and ASHRAE Conferences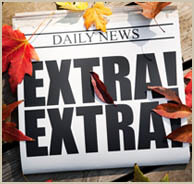 ASHRAE in Dallas
Joe Groh attended the recent ASHRAE exposition in Dallas, but he certainly wasn't alone. The 65th AHR Expo was held January 28-30 and it established four new all-time records for Southwest shows. More than 51,000 attendees came to the Dallas Convention Center to see the latest products and technologies on display from 1,951 exhibiting companies covering 397,000 square feet. On the night before the start of the Expo, Joe went to the hospitality event hosted by PCI Industries at the Dallas World Aquarium. He joined 275 other registered guests who enjoyed viewing the habitat that's the flora and fauna of the pre-Columbian culture. Guests were also able to view and get information on Pottorff's new SR-99 tunnel damper and EDD-637 dual drainable louver. See picture below.
Service Roundtable National Meeting in Fort Worth
On Tuesday, February 12, Joe was a keynote speaker for the Service Roundtable national meeting in Fort Worth which focused on overcoming adversity. Joe talked about how his life experiences, his faith, and the support of his family are instrumental in overcoming the adversity of living with a severe disability. On Wednesday, the keynote speaker was Chad Hennings, Air Force Academy graduate, fighter pilot, three-time Super Bowl champion with the Dallas Cowboys, and author. Registrants heard nine different speakers over a two-day period discussing overcoming adversities in areas ranging from starting a new business to surviving the changes currently sweeping the trades. One of the final seminars was an idea storm hosted by Contracting Business Magazine. Contractors brought examples of successful marketing ideas along with collateral and results to share with attendees, and were rewarded with cash!
ACCA Indoor Environment and Energy Expo
On Thursday, February 28 Joe was a panelist in one of the learning labs available to attendees. The presentation was entitled Talk to Me, Disabilities Aren't Contagious. The seminar focused on what to say or do when meeting potential clients and their family, one of whom has special needs. Specific tips were offered for working with those living with neurological issues, those who are blind, deaf, or those living with a speech or intellectual/developmental disability. Attendees learned that 28% of families in the United States have at least one family member with a disability, and that people with disabilities often have special comfort requirements and they prefer to do business with companies who understand those needs. Other panelists included Toby Taylor, Bill Baltzerson, and Sharon Roberts. Toby is GM of Air Rite Air Conditioning in Fort Worth. Toby was injured in an accident 13 years ago, now he navigates primarily in a wheelchair. Bill is the owner of Masters Training and Consulting, a Crown Point, Indiana consulting firm who works with HVAC service technicians. Bill has a daughter who is a talented artist and who is living with Down Syndrome. Sharon is president of Roberts & Roberts Associates, consultants to the HVAC and other industries. Sharon has family members, friends, and clients living with disabilities and this area represents a particular passion of hers. The ACCA was held in Orlando, Florida and Joe participated via Skype.
If there is a meeting or event you would like Joe to speak at, please contact him by e-mail at jgrohfoundation@gmail.com or by phone at (214) 998-9749.
Thank you for spending time on our website.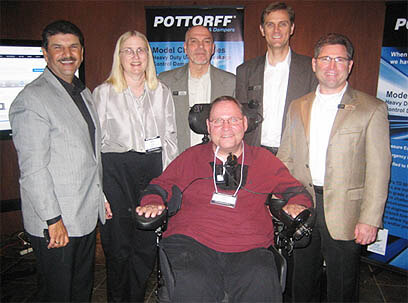 Joe and wife Sue with (L to R) Mike Almaguer, Tom Ruggeri, Pat Cockrum and Mark Saunders at PCI ASHRAE hospitality.