Quarterly Newsletter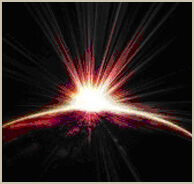 March, 2015 Winter-Spring Newsletter of The Joseph Groh Foundation
News Bytes
2015 Starts Off With Three Grants
The winter of 2014/2015 is proving to be one of the most active in the history of the foundation in terms of providing grants to applicants seeking them. We are currently in the process of funding grants to three separate individuals whose stories you will see in upcoming weeks. They range from a home remodel for a New Jersey electrician who was paralyzed in a diving accident in the summer of 2013 to rehabilitative equipment for the college aged daughter of a North Carolina HVAC contractor who was paralyzed in a diving accident in the summer of 2014. The foundation has never been in position to provide grants during this time of year because our funding has always been depleted by the end of the year. The addition and success of events held in 2014 however has made this possible, and we are planning to expand events in 2015 in order to be in position to extend grants year-round. We thank all of you who help us to make this possible!
The Importance of Fiscal Integrity For Foundations
If you're like most people, you want to make sure the donations you make to a nonprofit organization actually go to the nonprofit's cause and not to inflated overhead expenses. We've all heard stories about charitable organizations that spend too much on advertising or generous salaries. This concern should be foremost in your mind before you make a charitable donation. But how can you know whether a nonprofit is frugal and has financial integrity?
One benchmark of a nonprofit's commitment to fiscal responsibility and transparency is their status on GuideStar. GuideStar is an information service founded in 1994 that specializes in reporting on U.S. nonprofit companies. According to its founder, Arthur Schmidt, GuideStar is dedicated to making charitable giving more efficient by providing easily accessible nonprofit information. It is the only program of its kind that encourages nonprofit transparency on a national scale.
There are three participation levels at GuideStar depending on how much information organizations share: bronze, silver, and gold. The Joseph Groh Foundation is proud to be a gold participant. To achieve this status the Foundation has provided current financial statements, tax returns, and an impact report including goals, strategies, capabilities, indicators, and progress.
Another question you may have is how a smaller Foundation such as ours keeps accurate records. All financial transactions are recorded in QuickBooks by a CPA and QuickBooks ProAdvisor. QuickBooks allows the Foundation to generate timely and accurate financial statements, comply with the tax code, and send tax receipts for all eligible contributions.
The Foundation has no paid employees and is staffed 100% by volunteers who care deeply about the Foundation's mission to help those in the construction trades who have suffered life altering injuries. You can be assured that your contribution will be used to further this cause and we invite you to partner with us in that endeavor.
By Sue Huckabee, CPA & JGF Board Member

Upcoming Events
Foundation Planning Two Golf Tournaments for 2015… And More
The first golf tournament following Joe's accident that he was a part of was a personal benefit held at Lake Texoma in 2009 that attracted 30 golfers. The following year the foundation held its first ever tournament in Dallas and that attracted 52 golfers. The Dallas event has grown every year, and last year, 129 golfers participated in the event. The 2015 tournament will be held at Coyote Ridge Golf Club in Carrollton, Texas. Sponsor, golfer and dinner registration forms are on the website now! In 2014 the Chicago golf tournament was added and 66 golfers participated in the inaugural event. We are expecting even more in Chicago in 2015 when the tournament returns to Makray Memorial golf club in Barrington, Illinois on Monday, August 31.
Why this focus on golf? It has proven to be a popular venue for people to enjoy the camaraderie of their friends, in a pleasant setting to support a cause they feel strongly about. In addition, it has also proven to be the best way for the foundation to raise the kind of money needed to fund grants at the rate they are coming in. Even with two golf tournaments however we are still short of our goal of being able to react to all incoming inquiries at the rate we would like. Toward that end, we are always on the lookout for other fun and exciting ways to raise money for people living with life altering disabilities. Given that, we are looking at the possibility of a poker Pro am tournament at Choctaw Casino Resort in Durant, Oklahoma in 2015 as well as eyeing a third golf tournament in 2016. Plans are now being formulated, but we will keep you up to date as we get deeper into this year.
Selling books with ACCA and The Service Roundtable
ACCA (Air-Conditioning Contractors of America) is holding their annual conference and Expo at the Gaylord Texan in Grapevine, Texas March 16-18. In addition to educational symposiums, learning labs and networking opportunities, the event will also will showcase an industry Expo where suppliers and purchasers can talk one-on-one regarding products and opportunities. ACCA has offered the Joseph Groh foundation free exhibit space at the Expo, where the foundation will network with contractors while selling copies of Joe's book, From Two Wheels to Four.
One month later the Service Roundtable will hold their international Roundtable in Phoenix from April 14-16. The Service Roundtable is a revolutionary organization founded by a collaboration of leading contractors to share information and help other contractors improve their sales, marketing, operations and profitability. The Roundtable is focused on the HVAC, electrical, solar and plumbing industries. One of the social events at the Roundtable looks to feature a raffle to raise money for the foundation, and Joe's books will be sold as well.
Look for pictures from both of these events in our summer newsletter following the Dallas golf tournament.
Featured the Web
Updated Links Section
We have updated the website to include 27 new links to a variety of sites that are of interest to persons with disabilities. That brings to 159 the number of links on the Joseph Groh foundation website! These new sites range from business incentives to hire the disabled to a variety of sites under national resources and activity and social networks. One of the objectives of the foundation website was to serve as a clearinghouse of information for those living with life altering disabilities, and the links section is key to accomplishing that. We will continue to update the links section with websites we feel are appropriate to that mission.
Don't forget about Amazon Smile, Tom Thumb and Albertsons
Recently we wrote about Amazon Smile, Tom Thumb and Albertsons, and how these are a painless way to donate to the Joseph Groh foundation. Don't forget to continue using these sites and referring your friends, we are now beginning to receive a small but steady income stream from the source. Thank you for shopping for the Joseph Groh foundation!
People You Should Know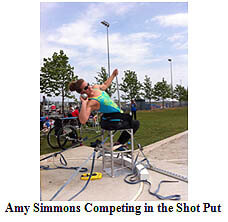 Meet Amy Simmons of Coleman, Texas, a town of about 5000 which lies about 50 miles south of Abilene. As a senior in high school, she was a standout athlete. Amy was all district in volleyball and basketball. She was especially gifted however in track and field, and still holds the discus records at Coleman. One Saturday morning about two weeks before Thanksgiving of her senior year, Amy was watching her younger brother play soccer. She had a basketball game later that day but realized she had forgotten her jersey at home. On the way there she was involved in a three-car collision, an accident that left her paralyzed from the chest down. For many, such an accident would be the end of their dreams. Their dreams of continued athletic competition, going to college, finding a meaningful career and even of finding romance. But not for Amy.
The town of Coleman rallied around Amy, the high school set her up on a computer so she could continue to take classes. She was determined to graduate with her class, even after going to Houston for rehab and suffering major headaches when spinal fluid leaked. On graduation day, classmates wheeled Amy on stage so she could receive her degree. Following high school, Amy decided to pursue degrees in occupational therapy at Texas Women's University after she found they offered a fast-track program that would allow her to complete her Bachelor and Masters degrees. "I wanted to work with people," she said. "I wanted to get to work with my hands, be creative and active." Today, she works with patients at Plano 's Village Physical Therapy and Rehabilitation Center, helping them achieve a better quality of life.
During a wheelchair rugby tournament in San Antonio five years ago, she met a para-Olympic thrower who suggested she try the sport. She had never attempted to throw from a seated position, but she entered a local meet in April 2011 and qualified for the 2012 US Paralympic trials. She wasn't one of the 54 American athletes chosen for the London Paralympics, but that did not dampen her enthusiasm. She continued to compete in various events and is now one of 76 Americans competing in the 10 day International Paralympic World Championships in Lyon, France. She will be competing in the shot put, discus and javelin. In her "spare" time Amy serves as a volunteer for Irving-based RISE Adventures, a nonprofit organization that provides recreational sports programs for athletes with disabilities, at no cost. "I know that my life experience allows me to have a positive outlook and just take things head-on," she said before departing for France. "I've never had the attitude of can't or quit." That spirit, along with her accomplishments make her a person you should know.
A Day in the Life
This feature is a sometimes humorous, sometimes offbeat, and sometimes irreverent look at life as seen through the eyes of a severely disabled person. Management takes no responsibility for these ramblings.
Naptime
What is the first thing you think of when someone mentions taking a nap? The vision of someone leaning back and slinking down into their chair, followed by closing their eyes, followed (sometimes) by the sound of snoring! You wouldn't think anything about that if it were the weekend and you, your spouse/child do that on a lazy afternoon. But if you are at work, school, at church or in a restaurant, you would think that behavior to be inappropriate. Kind of like the recent photo we have all seen of Ruth Bader Ginsburg napping during the State of the Union address. You might even say something to the offending individual or give them a nudge followed by a look that says, "What are you doing? Wake up, this isn't naptime!" When you are in a wheelchair however, it seems you have immunity from such intercessions.
When you step out in public in a wheelchair, you naturally draw a lot of attention. People generally have one of two reactions. They either look away or go out of their way to help accommodate your path. Either way, you are anything but stealthy. So whenever I go somewhere, there comes that time every 45 minutes or so when I go into the "nap" position. I tilt my chair as far back as it can go and sometimes I even close my eyes. Regardless of where I am, it is an immediate attention getter. In restaurants, you can see the palpable concern amongst the wait staff – particularly if it is accompanied by a pressure cough! "OMG, he's going to die right in front of me," says the look on their face. At church, the young at heart (read kids) look in amazement, perhaps wondering why I would be taking a nap at such a time. The more experienced (read ushers) have a perplexed look on their face, followed by a glance to see if the reclining chair is going to block the aisle behind me. I'm not sure, but I have wondered if the preacher interprets this as boredom with his message. Alas, the root cause lies with the "restless bottom."
The next time you are in a situation where people are sitting for an extended period of time, what will you see? Typically, you will see people fidget in their chairs as they seek to alternate the pressure being exerted on their bottom. You may even see them get so restless that they stand in order to relieve the pressure. Well, in my case I obviously cannot do that, yet I still have that same need to offload pressure. (If however you know of a way whereby I can stand to relieve the pressure, by all means let me know!) Hence, I recline my chair all the way back for a minute or two before rejoining the rest of society on a normal plane. The procedure fittingly enough is called a "pressure release", and I am supposed to be doing it every 30 minutes or so. Why do I sometimes close my eyes? Because it is the perfect position in which to take a nap without your head nodding forward and giving you away! So the next time you see me leaning back, ask yourselves, "Is he sleeping again?" You can never be too sure.