Quarterly Newsletter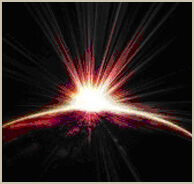 June, 2013 Second Quarter Newsletter of The Joseph Groh Foundation
News Bytes
Foundation Hosts Fourth Annual Golf Tournament
On May 6 foundation hosted a record 120 golfers at Prestonwood Country Club in Dallas for their fourth annual tournament fundraiser. The weather cooperated perfectly for the tournament sponsored by Air Systems Components, the day brought 80° temperatures under blue skies and very light winds. Prior to the start of the tournament golfers enjoyed grilled hotdogs and hamburgers courtesy of Ruskin Manufacturing while also participating in a $10,000 putt for cash contest. Unfortunately for the second year in a row, the money went unclaimed.
Golfers found plenty of challenges on the course in addition to the ones they brought themselves! Included among these were a most accurate drive challenge, longest drive challenge and hole-in-one for vacation prizes on all par threes. The format was a shotgun scramble and for the second straight year the team from Hill Phoenix Corporation took first place. Following golf attendees browsed silent auction offerings including many restaurant packages and signed sports memorabilia while enjoying beverages provided by Pottorff Louvers and Dampers. During dinner which consisted of barbecued chicken, brisket and sausage courtesy of Hill Phoenix, attendees heard remarks by Scott Murray, a longtime DFW area sports broadcaster. They also heard Don Jakeway talked about how inductees are selected into the NFL Pro football Hall of Fame. Don has served on their board for the past 25 years. The event raised just over $52,000 (gross) for the foundation.
The tournament banner is shown below along with pictures of golfers, event volunteers and the foundation board of directors. In addition to traditional tee box photos, golfers were encouraged to also pose creatively, a number of those are shown below. In a vote by the Board of Directors, the four top vote getting photos are featured on the homepage of the website. Thankfully, there were no photos that were not publishable!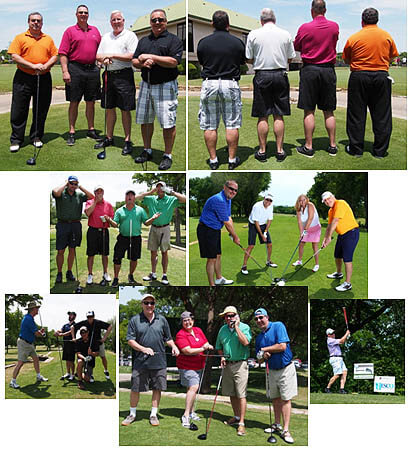 Twenty Years after the Passage of the ADA
The mention of ADA for many people conjures up images of curb cuts and handicapped parking spots. It is much more than that of course but those are some of the most visible manifestations. Like most people, I never thought much about it before my accident. Now however curb cuts, handicapped parking spots and wider doorways are appreciated as the difference between getting around in public or not.
The ADA law was signed by Pres. George H.W. Bush in 1990 and was the first ever civil rights law for people with physical and cognitive disabilities. This law has brought about many unintended benefits as well for people who are biking, people with baby strollers etc. who all take advantage of features such as curb cuts. Perhaps the physical adjustments however were the easiest to make even if they were some of the most expensive. Consider that despite ADA, 70% of people with significant disabilities are not working today, the same percentage as 20 years ago. For people with any type of disability about half are not working, also the same as 20 years ago. Why is this? Some would say that employers fear (whether real or imagined) that disabled employees will cost their business more and will prove to be disruptive in the workforce. Others cite rules that make it unaffordable for the disabled to take a job because of the incremental costs they would incur to work outside the home, or that they would lose insurance benefits or Social Security disability benefits if they engage in substantial gainful activity. (Defined as earning more than $1040 per month) Whatever the reasons, unemployment among the disabled represents the next phase of advancements to help integrate disabled individuals more fully into society.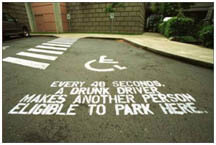 Featured on the Web
Homepage
Picture of the four finalists for "most creative tee box" photo. The winner will be determined by you the reader, simply send the foundation an e-mail with your choice by July 4th!
Check out activities by the foundation in the first half of this year by reading the Recent Events by the Foundation story on the homepage
Rate about the importance of long-term disability insurance by reading the associated story on the homepage
About Us
Read about the two newest board members of the foundation under the Foundation Policy tab
Links Page
FacingDisability.com – A website born out of the personal experiences of Vicki Hill, facing disability is designed to provide Internet-based information and support for people with spinal cord injuries and members of their families. This website has more than 1000 videos of family members answering real-life questions about how they cope with a spinal cord injury. ~Listed under National Resources
Missionregan.WordPress.com – This organization collects medical supplies, medicines, and equipment, then sends them to those who are in desperate need – both locally and globally. ~Listed under National Resources
Litco.com – A premier source for cost-effective, sustainable transport packaging and load securement products. See related story. ~Listed under National Resources
This brings the total number of links on the Joseph Groh foundation website to 128
People You Should Know
Slip sliding away... Those lyrics from the Simon and Garfunkel song aptly described what my bed was constantly doing on the tile floor of our bedroom. The tile floor that makes using the Hoyer lift so easy proves to be a nemesis for the bed.
Every time someone would give me a pressure cough (see archived news stories, December 2012, What Is She Doing to That Guy) the bed would slide a bit closer to the wall. Since pressure coughs are my constant companion, the wall is in regular danger of being nicked, marred and scuffed. We were constantly having to pull the bed away from the wall which precipitated much discussion of potential solutions. Finally one day I decided to conduct some Internet research into the problem to see if I could find a solution that was effective and aesthetically acceptable. After looking at a wide range of products and not being satisfied, I stumbled onto a product meant for the transportation industry. The product is a rubber friction mat which is designed to help secure cargo during a wide range of transit modes including road, rail, oceangoing container and intermodal. These mats minimize cargo movement and load shifting, thereby minimizing product damage. According to the website, this matting is a cost-effective alternative to traditional bracing and blocking methods.
Many of the solutions we had brainstormed involved bracing and blocking, so I thought this product might be the perfect solution to our problem. I wanted to try a sample of the product before purchasing, but purchase quantities were industrial sized to meet the needs of the freight industry. Nevertheless, I decided to pursue this solution which brought me in contact with Stacie at Litco International Inc. I fully expected to be rebuffed with my request which I would have understood. Put yourself in Stacie's shoes. Some guy calls with a cockamamie request for a sample of material to keep his bed from sliding around. Your job is to facilitate the delivery of thousands of sheets and hundreds of rolls to over the road transporters, rail shippers and ocean freight transporters. Even if you wanted to help their systems do not permit the shipment of sample pieces or small quantities. It would have been very easy for Stacie to dismiss my request, but to my surprise and delight she did not. In a patient, friendly voice she said a sample would be mailed out, and a week or so later we received it. Even though the sample piece was only large enough to fit under one of the two feet on each side, it made an immediate difference. The bed slipped less and only had to be pulled away from the wall once in the next week. Convinced we had found the solution I once again called Stacie to see if I could somehow purchase some of the material in a width that would accommodate both feet on each side of the bed. (See picture below) Once again I expected to be told I could only purchase these in the quantities shown on the website, and once again I was pleasantly surprised by Stacie's friendly willingness to send me a roll of material which would accommodate our needs for quite some time. A week later we received the material sent gratis by Stacie, and we immediately put it to work. Since that time we have seen a dramatic reduction in bed movement and commensurate need to constantly pull it away from the wall. I told Stacie about our foundation and our newsletter, and I told her I would feature an article about Litco Secure LITEMAT Rubber Matting. The product is terrific for what we needed, but this article is really about the wonderful customer service exhibited by a caring employee. Thank you Stacie!
We have many business people who are readers of this newsletter, for those of you looking for shipping products and a load securement solution for your shipping needs, (or even as a bedliner for your pickup trucks) check out products from the following company.
Litco International
Vienna, Ohio
330539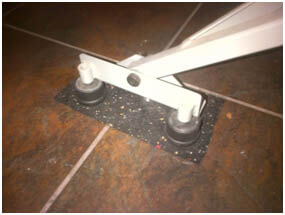 A Day in the Life
This feature is a sometimes humorous, sometimes offbeat, and sometimes irreverent look at life as seen through the eyes of a severely disabled person. Management takes no responsibility for these ramblings.
Let's Stop Giving Auto Attendant The Finger
It may come as a surprise to Gen 9/11'rs, but there was a time when business telephones were actually answered by people! That's right, people were actually paid to sit by a telephone, wait for it to ring and greet the caller with a live voice. As proof, they only need to watch a movie that was made before they were born.
Now it happens so often we don't even give it a second thought. We call an organization such as a medical supply company to whom we want to give money and we typically get the following response. "Thank you for calling Medical Necessities, formerly Sanitary Colostomy Supplies, please listen carefully to our menu as it has changed. If this is a medical emergency please hang up and dial 911. Para Español Presione uno for sales press 1, for billing press 3, for appointments press 6, if you are a doctor or provider press 9, for nurse Susie press 8. Please note the nurse only returns calls on Tuesday and Thursday after 4 PM. The office is closed from 1130 a.m. until 1 p.m. for lunch." If you are lucky, this exhausting litany is followed by "for all other callers please stay on the line and someone will assist you." If you are unlucky, this litany is followed by click/bzzzzzzzzzz. That is when I have to call for my finger functioning assistant.
Every once in a while you call a truly enlightened organization where the auto attendant instructs you to "press or say 1." When you encounter such a service, you should let organization personnel know how much you appreciate the simple courtesy of having the voice option, once you reach them of course. Who knows, such positive feedback may prevent them from going to a less expensive voice mail system in the future (during a "budget rightsizing exercise") which features the click/bzzzzzzzzzz option.
For all of you who are running a company or are in charge of your company's phone system, I am laying down the fingerless challenge! For those of you utilizing auto attendants, call your organization as though you were a customer, and after listening to the voice prompts from the auto attendant, see if you have a strong urge for a Jack and Coke. If so, please indulge your urge before proceeding to fix the system! Next comes the fingerless challenge. Can you reach the party of your choice by using only your voice? If not, will you be automatically transferred to a live person once the auto attendant cycle is complete or will you get the click/bzzzzzzzzzz treatment? If it is the former you may congratulate yourself on not having to give your company the finger!
As for myself, I am thinking of installing one of those pushbutton phones very close to my bed so that the next time an auto attendant tells me to press 1, I can just stick my tongue out at it.