Quarterly Newsletter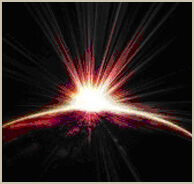 October, 2013 Third Quarter Newsletter of The Joseph Groh Foundation
News Bytes
USS New Jersey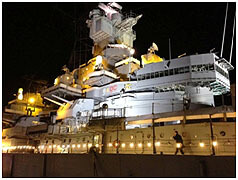 If you are an HVAC, refrigeration, energy management, plumbing, piping, fire/sprinkler protection solar or bath/kitchen remodeling contractor and have either not heard of or not been to Comfort Tech, you need to pay attention. This event offers leading edge education seminars and product showcase displays where you can talk with representatives from top manufacturers. It also offers unmatched networking opportunities with your industry peers. The depth and breadth of seminars is too large to mention here but you should make your plans now to attend this show next September in Indianapolis.
The most recent Comfort Tech was held September 18-20 in Philadelphia, and it has become an important event for the Joseph Groh foundation. For the past several years Penton Media, event sponsor, has granted a booth to our foundation in the exhibitor showcase area. It is staffed by two of our board members who also have booths of their own at the show, and it has grown into our second largest fundraiser.
This year's event was particularly meaningful because while it was happening, the foundation received a grant request from an individual who had heard about our foundation through Comfort Tech. This individual had spent his entire career with an HVAC distributor and now is on hospice, expected to live six months or less. He is trying to make sure his affairs are in order, and that includes making some roof repairs that he cannot afford. The foundation is currently working with his family on this request.
Perhaps the most exciting event that took place at this year's Comfort Tech was a tour aboard the USS New Jersey, currently moored in the Philadelphia Naval Yard. An Iowa class battleship, the New Jersey earned more battle stars for combat actions than the other three Iowa class battleships combined. Decommissioned and reactivated twice in her career, the New Jersey was involved in World War II, the Korean War and was the only US battleship to provide gunfire support during the Vietnam War. It was decommissioned for the last time in 1991. Armament consisted of 9 – 16 inch guns, 20 – 5 inch guns and a variety of antiaircraft and machine guns. During one of its retrofits it was outfitted with Harpoon anti-ship, Phalanx and Tomahawk cruise missiles. The tour was hosted by Lennox Industries, and the highlight of the tour was the opportunity to fire one of the 5 inch guns. To those not familiar with battleship armament, a 5 inch gun might not sound like much until you consider that it could penetrate 2 inches of armor with a 5 inch diameter, 50 pound shell from a distance of 8 miles. They can also provide effective antiaircraft fire up to 37,500 feet. The bidding to fire these guns was very competitive, and in the end two contractors had the opportunity for this very unique experience. Lennox donated all bids to the Joseph Groh foundation, kudos to them for their generosity. The winning bid was from Ken Goodrich, President of Red Falcon Equity. The second-leading bid was from Eric Dutton, owner of Dutton Plumbing in Thousand Oaks, California. Thanks to Ken and Eric for their acts of generosity as well!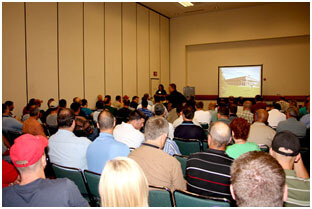 One of many seminars held at Comfort Tech
Foundation Board President Earns Consultant of the Year Award

Vicki Laplant, president of the Joseph Groh foundation recently was honored with the Tom McCart award at the recently completed Comfort Tech Symposium in Philadelphia. This award was first given in 2008, and recognizes the top consultant in the HVAC industry every year. It is presented by the Service Roundtable by vote of its members and the presentation is made at Comfort Tech each year.
The Service Roundtable provides best practice tools to contractors in the HVAC, electrical, solar, and plumbing industry. The Joseph Groh foundation is the official one for this organization.
Tom McCart was a legendary salesperson, coach and consultant in the HVAC industry. He was the first individual to sell $1 million of residential, replacement equipment in the HVAC industry – in one year! Tom passed away in 2004, but not before touching literally thousands of lives in the HVAC industry.
Vicki and her husband John are owners of Vital Learning Enterprises and they have been providing consulting and training for HVAC, plumbing and refrigeration contractors since 1995. Training is available on subjects ranging from business management to customer service to sales. Prior to starting their consulting business, both Vicki and John were employed by Lennox Industries.
Congratulations Vicki and John!
Featured the Web
Recent Changes to the Foundation Website
When you look at the foundation website, you will notice quite a few changes including:
Homepage
Pictures of charity event aboard the USS New Jersey in the Philadelphia Naval Yard as a part of Comfort Tech 2013
Story #2 about the Joseph Groh foundation earning the gold label for reporting and transparency from Guide Star
Guide Star Gold label
News Page
Latest newsletter from the foundation
People You Should Know
Rick Hansen – Athlete and Accessibility Advocate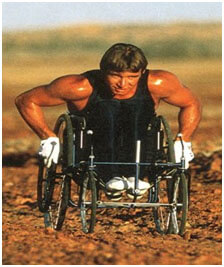 In 1973 at the age of 15 Rick Hansen's life changed forever. He was involved in an accident that paralyzed him from the waist down. Coming to terms with his new life, he found inspiration from everyone around him and set new goals from new dreams. Rick went on to become one of Canada's most decorated Paralympic athletes. In March 1985, Rick set off from Vancouver to wheel thousands of miles through 34 countries on the Man in Motion World Tour to prove the potential of people with disabilities. This 26 month journey inspired an entire nation to believe anything is possible and move thousands to make a difference. After the tour, he established the Rick Hansen foundation to find a cure for spinal cord injuries and create more accessible communities. Since 1988, the foundation has leveraged the $26 million raised during the tour into $280 million in investments toward spinal cord research, accessibility projects, and quality of life initiatives. Of late, issues of accessibility has been foremost in their work.
While Rick is from Canada, you would think that in this country ADA has already provided us with a focus on accessibility and that the problem is pretty well solved. Recently I saw an article written by Fay Vincent, former MLB Commissioner from 1989-1992. Paralyzed himself, Fay had written an article for the Wall Street Journal entitled "Where the Disabled Aren't Welcome." In that article he wrote about the so-called "little things". Citing as examples, Vincent talked about the time he was invited to give a talk at an exclusive men's club in New York City. While there, he was dismayed to find that their restroom was not wheelchair accessible because ADA exempts private clubs from their purview. Another time he arrived at a Florida medical facility for some x-rays only to find that the door was not wide enough for him to be able to get his wheelchair in, and yet another time he went to a prestigious New York City hospital to talk with surgeons only to find that 90° turns made him unable to have x-rays taken. A frequent traveler, Vincent was constantly having difficulties in the bathrooms of so-called "accessible rooms". He once asked the CEO of a major hotel chain why there wasn't more attention paid to the handicapped traveler, and the candid reply was that "there are not too many people like you visiting top-level hotels, so it does not make business sense to cater to the handicapped".
I have had my own issues in this regard, as the entry doors to many restaurants, businesses and medical facilities are barely wide enough for my wheelchair to get through. Just last night I went to Collin County college to make a presentation about the foundation and we literally had about an inch to spare because a double wide door had a center pole, and the doors had width long push handle openers that made the door even more narrow. When my daughter was in high school, we traveled to numerous gymnasiums around the North Texas area with her basketball team and I used to joke that in the event of a fire, you better let me out last otherwise no one was getting out alive.
Rick Hansen saw many of these things firsthand on his world tour and he wanted to do something about it. That drove him to create a recently released online tool called the Global Accessibility Map. This tool invites visitors to rate usability from a mobility, hearing or sight perspective. Ratings are based on accessibility criteria provided within the tool. "The information generated by this consumer tool has the potential to create tangible, positive change in the lives of many people across Canada and around the world. It will empower people to make informed decisions about accessible places to eat, work and play – while creating greater awareness about the economic power of people with disabilities" said Darrell Rock, volunteer chair of the Rick Hansen global accessibility map steering committee. According to Vincent, "The big stuff including ramps and elevators is done and welcome. I think the little things however require little more than the intention of some good people paying attention." Hopefully, Rick's tool is able to help transform that attention into action.
A Day in the Life
This feature is a sometimes humorous, sometimes offbeat, and sometimes irreverent look at life as seen through the eyes of a severely disabled person. Management takes no responsibility for these ramblings.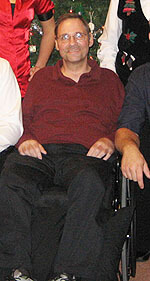 Do Wheelchairs Make You Fat?
A totally unscientific survey completed only in the labs of my mind of millions of people reveals the unpolitically correct truth that we dare not admit out loud. If I ask you to picture in your mind a person in a wheelchair, close your eyes for a minute and create this image in some detail. What does your image look like? See, I told you! You imagined that the person sitting in a wheelchair is fat....er shall I say, "weight challenged". But as we hear in the TV ads for bariatric surgery, "It's not your fault". There is a lot at steak stake here people, we can't possibly let Mayor Bloomberg and his "Too Tubby to Fail" campaign get traction. But I digress.
Why is it that able-bodied have such poor perceptions of how people in wheelchairs look? Even those who are a little porky themselves. What is it about their eyesight that only allows them to visually remember the people they see in wheelchairs who might be packing an extra pound or two and completely miss the image of people like Rick Hansen, pictured in an article above? I think studies need to be conducted about the relationship between image creation and image retention in the minds of able-bodied people like yourself. How else do you explain the horrific images you imagined during the simple exercise at the start of this article? It can't possibly be the 79 ounce soft drinks served at restaurants everywhere, can it?
I think I'm the perfect poster child in demonstrating that the problem is with the eyesight imaging and retention feature of able-bodied and not let the reality of the wheelchair disabled. When I checked out of the hospital in December 2008, I had lost 60 pounds from my able-bodied, physically well conditioned high. That in and of itself should tell you that the problem is in the mind of the able-bodied, not in the belly of the disabled. During the past five years that image has given me a bit of a superiority complex, knowing I am on the right side of this argument. Until yesterday.
I was at a doctor's office and my doctor told me she thought I had gained a little weight. I gently dismissed her remarks by saying it was the wheelchairs fault. After all I am strapped into the darn thing and can't get out to exercise. Besides that, they make it so easy to drive that I can do it with my chin – why on earth would I want to make that anymore difficult. She smiled in a way that made me a bit nervous. The smile was too confident, she wasn't buying my arguments. "We have a scale that you can roll your wheelchair onto" she said, that confident smile now looking more like a smirk of superiority. "After we're finished here we can weigh you, it's just down the hall". "That's great" I lied. In reality I was a bit nervous. The last time I was in a facility that could accommodate my wheelchair and weigh myself was four years ago, and I was secretly concerned that my 2/meal peppermint Patty desert might have had a "Bloomberg effect". Following my appointment the doctor had her assistant lead the way down the hall to where the scale was waiting. It was like a scene from a movie and I had the distinct feeling I was a "fat man rolling". I rolled onto the scale as the nurse prepared the machine. In my mind, all the good meals I had ever eaten flashed before me. Then she pressed the button. The output screen of the scale looked up at me, sighed, slowly, shook its rectangular disproportionate face and said "Ruh ro Tubby, this isn't 2008 anymore". I felt like slapping it. Then my face brightened. It would be five months before we saw this doctor again, so that meant five months until my next weighing in. I had plenty of time to make any needed corrections by then. Then I heard Sue say in a voice that was almost giddy with anticipation "That's perfect. I will bring the chair over by itself on Saturday morning and put it on the scale, and we will know how much Joe weighs". Not good, that meant I only had two days to live it up before learning the grim prognosis and experiencing the resulting calorie deprivation that is sure to follow. A vision flashed through my mind of myself sitting in a circle with other people in wheelchairs, facing a moderator and hearing these words come out of my mouth. "My name is Joe and I'm a fatty". I guess I have some work to do. Meanwhile, you all need to work on your mental imaging problems!